10 Types of Marketing Emails You Should Definitely Be Sending 
March 16 - 6 month before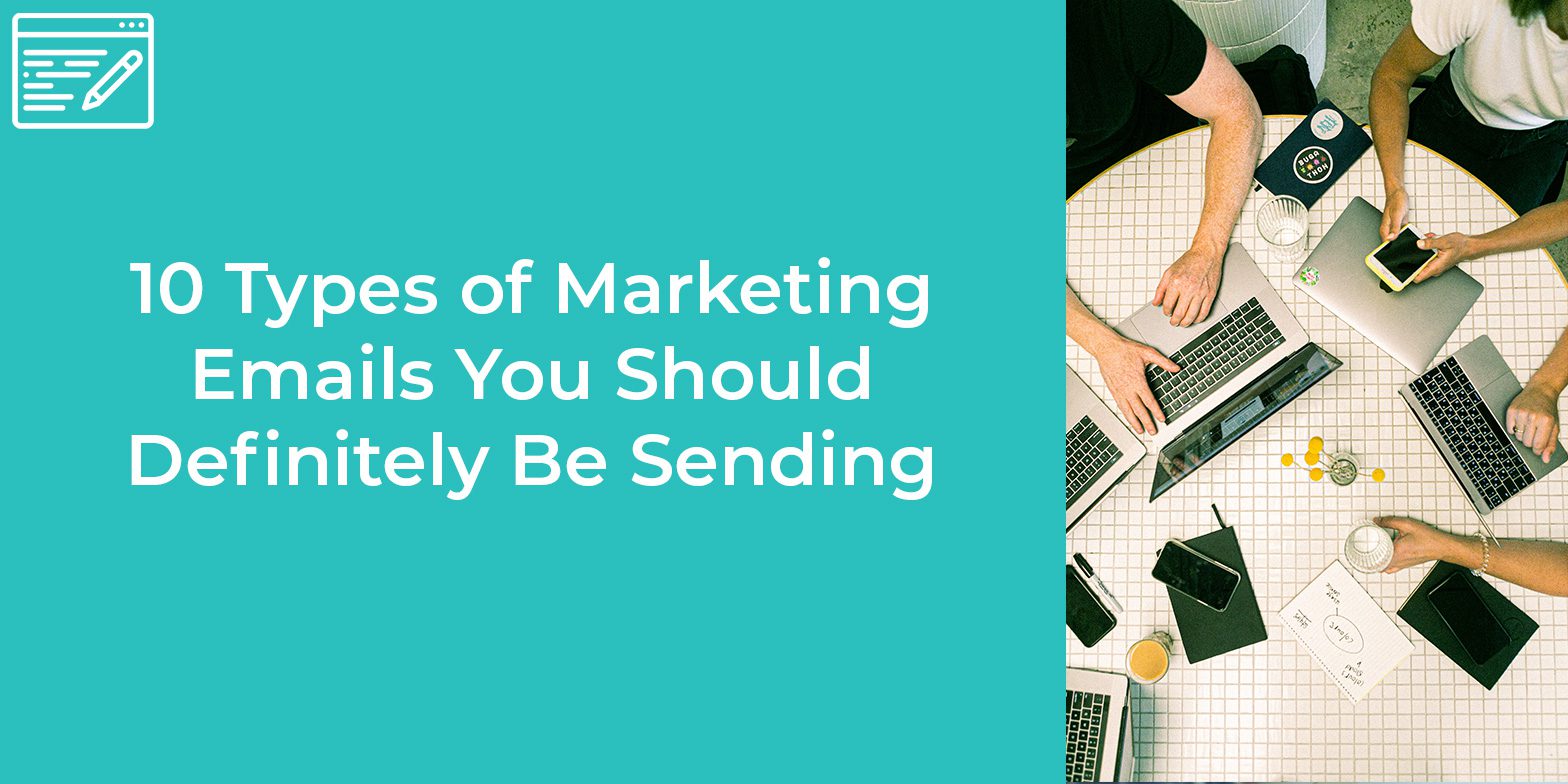 1. Introduction
If you are going to choose marketing emails, they can be powerful tools for your business, but only if you know what type of emails you need to send. Here, we are going to cover the 10 different types of marketing emails that you should be sending. Some are more general and can be used in any situation, while others are more specialized and require additional information to be sent with them. With these ideas, your audience will never have a moment go by without knowing they are on the radar!
2. Welcome Email
When choosing welcome emails, these are key to any email marketing strategy. It helps to introduce new subscribers to your brand and build a relationship with them from the start. Please look at a few different types of welcome emails you can send, each with its purpose.
The Basic Welcome Email: The introductory welcome email is the simplest type of welcome email, and it thanks the subscriber for signing up and gives them a brief overview of what they can expect from your emails. It might also include a discount code or other incentive to encourage them to make their first purchase.
The Content-Rich Welcome Email: This type of welcome email goes into more detail about what the subscriber can expect from your emails. For example, it might include links to your best content, an introduction to your team, or even a video tour of your products or services.
The Engagement-Driven Welcome Email: This type of engagement-driven welcome email is here to get the subscribers who are interacting with your brand as soon as possible. It might include a quiz, survey, or contest that encourages them to engage with your content and provides you with valuable data about their interests and preferences.
3. Catalog Email
It is always recommended that you send a marketing or catalog email. This email should include a catalog of all your products or services, pricing information, and special offers or discounts. If you have a large inventory, consider sending a monthly or quarterly catalog email to keep your customers up-to-date on your offer.
4. Birthday Email
Your customer birthdays are the perfect opportunity to send them a special email to show you care. This type of email can be as simple as wishing your customers a happy birthday and including a coupon or discount code for their next purchase. Also, you can use these emails to upsell or cross-sell related products. These are great ways to build loyalty and engagement with your customers. You should ensure that you personalize each birthday email so it feels like it's coming from a friend, not just another marketing campaign. Putting in a little effort will go a long way in making your customers feel valued and appreciated.
5. Event Invitation
If you are going to send marketing emails, it is always recommended that you should remember that your recipient should always feel like they are receiving a valuable offer. That's why your event invitation should be well-crafted and include all relevant information about your events, such as date, time, location, and other pertinent details. In addition, your invitation should include a strong CTA (call-to-action) that encourages recipients to purchase tickets.
6. Coupon Code Email
If you have a website or online store, one marketing email you should be sending is a coupon code email. This type of email encourages customers to purchase your products from your store by offering them a discount.
If you create a coupon code email, you need to start by designing a compelling subject line that will encourage recipients to open the email.
Next, you must create an engaging copy explaining the discount and how to redeem it.
Finally, ensure that you have included a call-to-action (CTA) telling recipients what they need to do next to take advantage of the offer.
Then, you will need to include an expiration date for the discount, so recipients feel a sense of urgency. If done correctly, a coupon code email can be an effective way to boost sales and drive traffic to your website or online store. So, if you still need to incorporate this email into your marketing strategy, now is the time to start.
7. Reintroduction Email
If you have yet to get in touch with your respective customers and clients, you will need to send them a reintroduction email. You need to tell them what you have been up to and what's new with your business that will be an excellent opportunity to offer a discount or promotion.
8. Newsletters
You need to keep your customers and clients informed about what's going on with your business by sending them regular newsletters. It includes helpful information, resources, tips, and any other sorts of special offers or promotions you may be running.
9. Thank You Email
Thank you, email is a great way, to show appreciation for someone's business and helps to build goodwill and strengthen relationships. Plus, it's just good manners!
Now, when should you send a thank you email? The answer is anytime someone does business with you, makes a purchase, or takes the time to connect with you. A thank you email can also be sent after attending an event or meeting or anytime you receive help or advice from someone.
What do you need to say in a thank you email? First, you need to keep it short and sweet. A simple message of thanks is all needed, but if you want to add a personal touch, you should include a brief note about why you are grateful for the person's business or support. If you are going to send a thank you email, which is quick and easy; but can create a big impression, take the time to show your appreciation and say thanks today!
10. Content Updates
If you're regularly sending content updates to your subscribers, you're taking advantage of a big opportunity to engage and nurture your audience. Here are four types of content update emails you should be sending: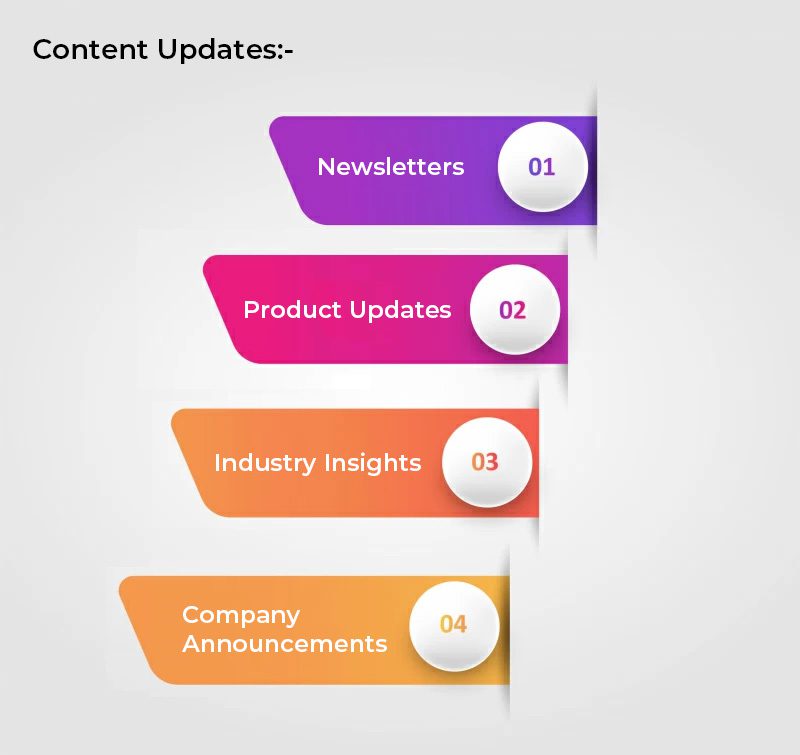 Newsletters - A newsletter is a great way to keep your subscribers up-to-date on your industry's latest news and happenings. Include links to interesting articles, helpful tips, and exclusive offers or coupons.
Product Updates - If you sell products, keep your subscribers in the loop with regular product updates. Share new product features, special deals, or insider information about upcoming releases.
Industry Insights - Keep your subscribers informed about what's going on in your industry. Share interesting articles, insights from experts, or news about regulatory changes that could affect your business.
Company Announcements - From new hires and promotions to office moves and expansion plans, let your subscribers know what's going on with your company. This helps create a more personal connection with your audience and keeps them up-to-date on the goings-on of the business they support.
11. Holiday Wish List Email
As we head into the holiday season, there are a few different types of email campaigns that can help you boost sales and drive engagement. Here are a few holiday wish list email ideas to get you started: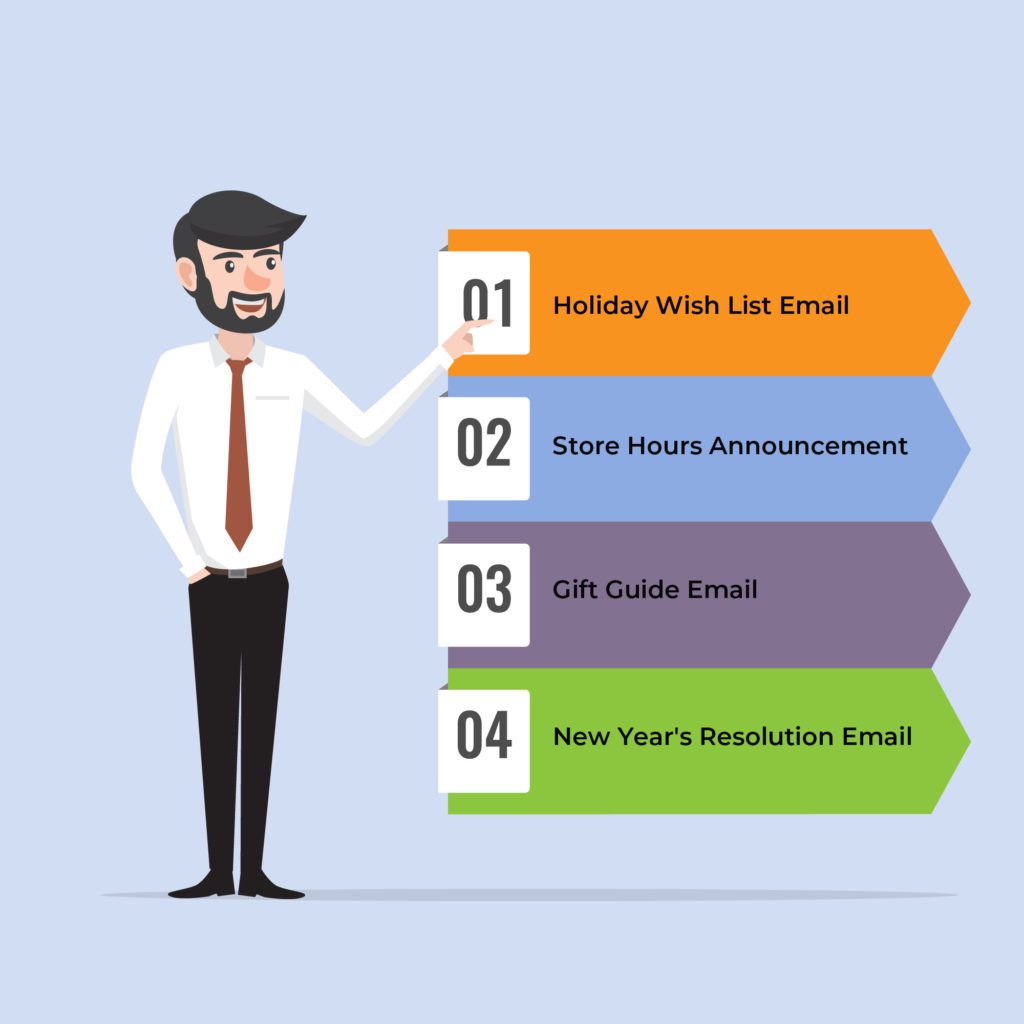 Holiday Wish List Email: This is a great opportunity to reach out to your customers and let them know about any special holiday hours or promotions you may be running. You can also include a link to your online wish list if they want to do some holiday shopping for friends or family.
Store Hours Announcement: Make sure your customers know when you'll be open (and closed) over the holidays so they can plan accordingly. Include any special hours or promotions in this email as well.
Gift Guide Email: Have trouble deciding what to give your loved ones? Why not put together a gift guide featuring some of your best-selling products? This is a great way to show off your latest items and give your customers some ideas for holiday shopping.
New Year's Resolution Email: You can start the new year by reaching out to your customers and setting some goals for the coming year. It could be anything from introducing new products or services to offering discounts on popular items. Whatever you choose, you need to ensure that it will resonate with your audience.
12. Conclusion
Every business should utilize email marketing to its fullest potential. There are a variety of different types of marketing emails that can be sent to promote your business and products/services. I hope you understand the different types of marketing emails that you should be sending. Before sending emails, you should have a business website. If you already have, then good. But if you don't have one, there is a platform to create a business website in just 7 simple steps i.e., WebsFb.
---
---
Subscribe to Stay Updated with Latest News
Easy 7 steps for build your website.
Most Populer Post