How to Use Google My Business to Reach More Customers
October 27 - 1 year before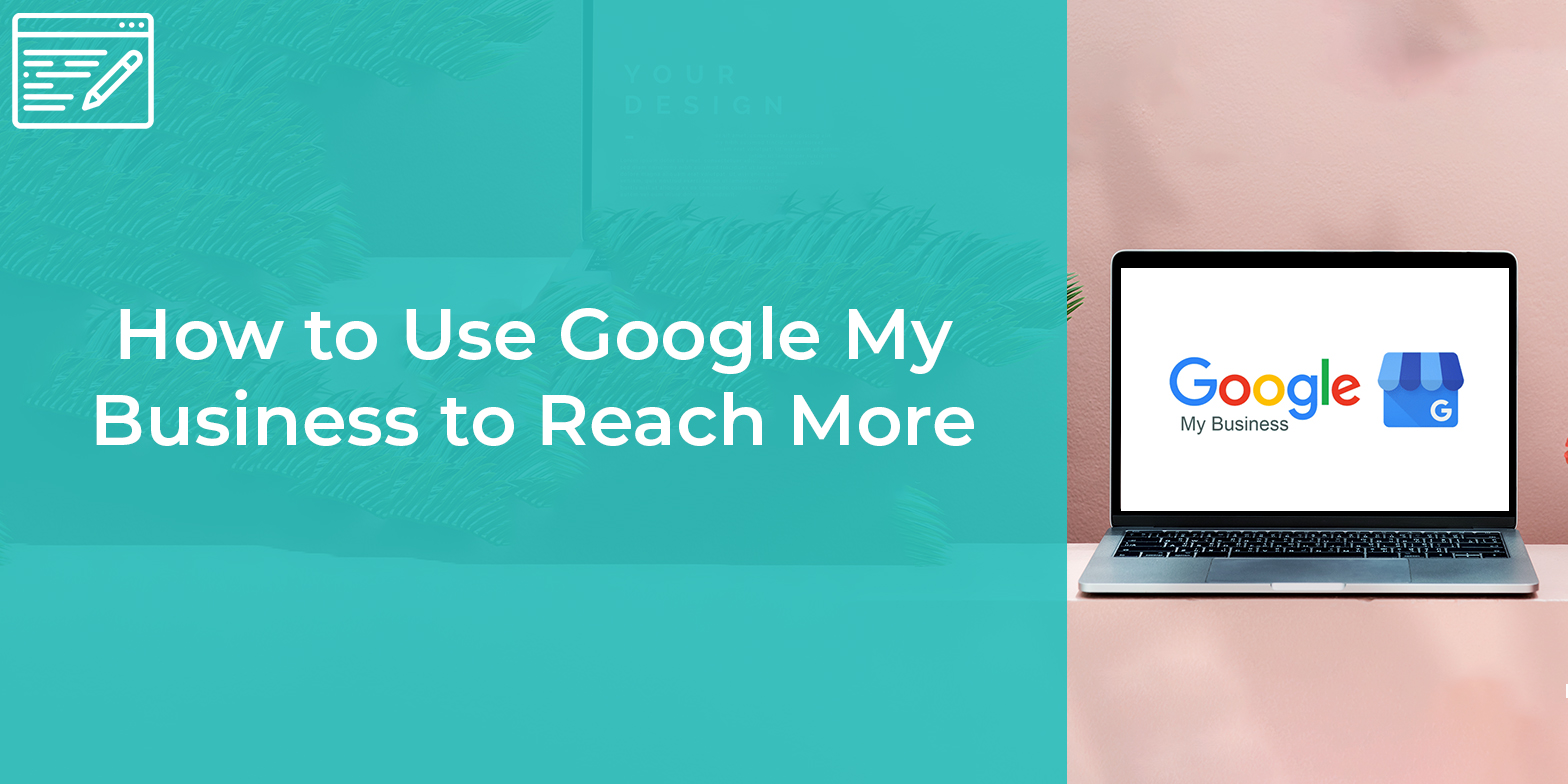 Today 44% of the small business owners still do not have their online presence if you are reading this post then it does mean that you have taken the first step towards reaching more customers through Google for your business.
Google My Business is a simple and straightforward way to increase your online presence. When people search on Google, they want information that can help them make decisions quickly—and if you don't have an account for GMB then many will simply move onto the next business without considering yours at all! Google My Business enables you to manage and optimize your business profile on Google. Google My Business account lets businesses make them searchable on Google. For small and big businesses, it's like an affordable marketing tool.
What is Google My Business Profile?
The Google business listing is known as Business Profile in terms of Google. The business profile does appear in Google Maps and local search results. While on Google search it looks like: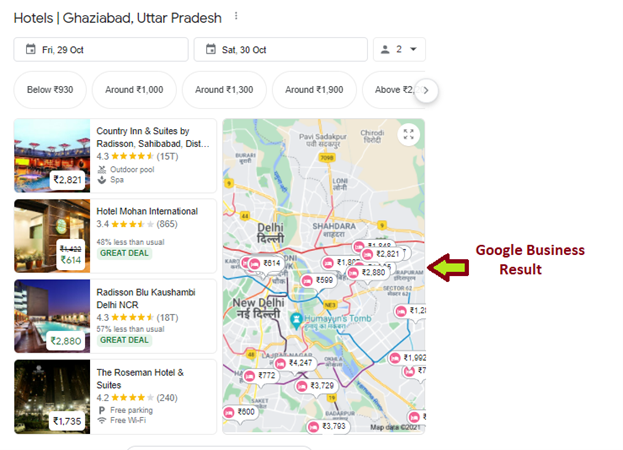 While on mobile it looks like the following image: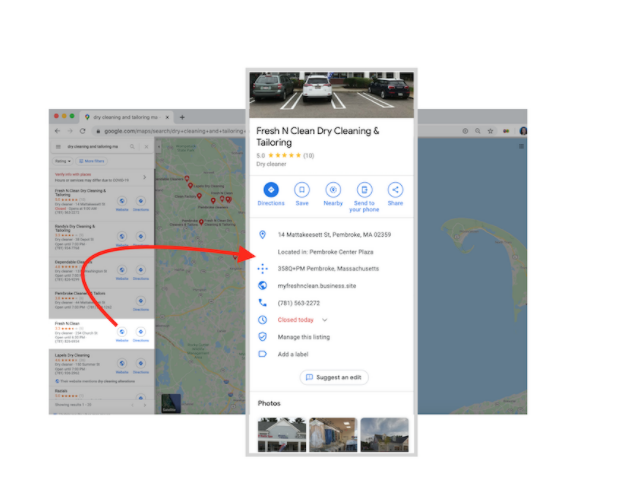 Business profile creation is just like same as adding a place on Google map. For Google business listing you only need business name, location, and category. Post validation of the profile Google creates the business profile. This business profile may exist apart from your Google My Business account.
Why Create Google My Business Account?
Google My Business is not only your business profile instead is a tool that can enhance your business profile and boost its visibility. Still, if you are not sure that why you should have Google My Business profile then read the following reasons to have the same:
1. Increased Customer Engagement
There are several ways to increase customer engagement and Google My Business profile creation is one of them. Businesses can use their Google My Business account to engage back with their existing customers. Through an authorized business account, you can respond to customers' reviews, answer their questions, enable direct messaging, and set up the associated alerts. You can publish posts as well through your Google My Business profile.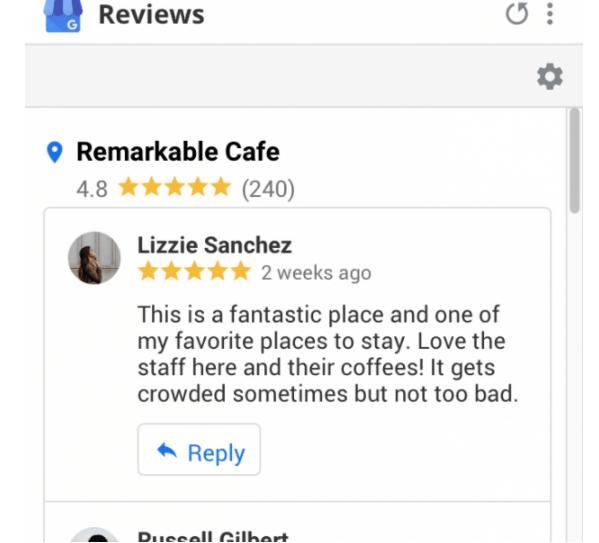 2. Boost Customer Confidence
A Google My Business profile boost business credibility. Today most of the customers prefer businesses or services with valid Google My Business listing. Studies have shown that businesses with a complete Google listing can twice likely earn the customer's trust. Customers always prefer to purchase by trusted businesses and it's like a key factor of trust. Credibility earned from Google can boost customer confidence and increase the chance of their purchase making.
3. Be Ascertainable
The search has become digital as most of the customers search for any product or service online. This is where your customers start searching for. For both foot traffic and web traffic, Google is the ultimate search referrer. Therefore, to be discoverable on Google you should have an authentic Google My Business account that can indeed improve the local SEO, so that when someone in your nearby area will search for you then your business page can be listed on.
Setting Up Google My Business
Google has provided this tool to its users that is free and easy to use it allows businesses and organizations to manage their online presence for maps and searches. You can help your customers to locate your business through this tool. For any small business, it is necessary to have such a tool that can help them in locating their business locally. The tool also helps you to display all information to your user accurately and optimized way.
Stepwise Procedure of Creating and Setting Up "Google My Business"
As a first step, you have to set up your account and register your business and optimize the account with as much information as possible. But for this, you need to add as much information in a detailed manner as you can like:
Company Location
Contact Information (phone, email address)
Shop Opening Hours
Products or Services for the Customers
Direct website link
Additional Tip: Moreover, to remain on top you should keep on updating your account.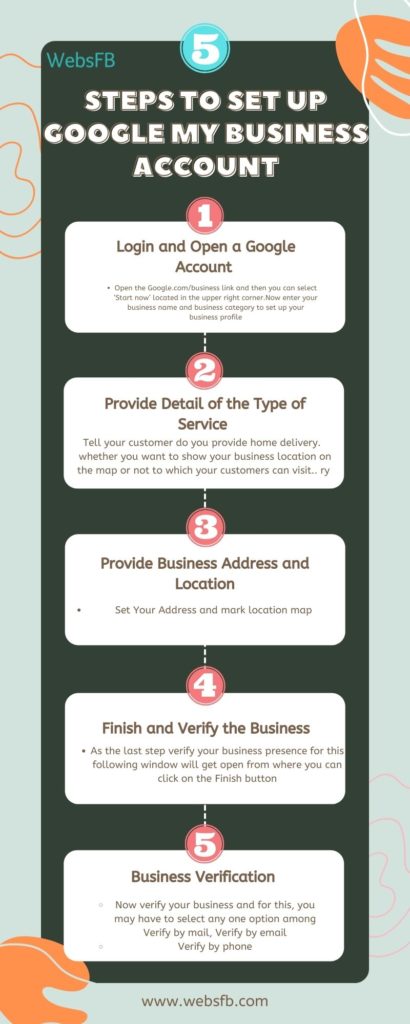 Now let us see the steps to set up or Register your Business with Google My Business through the following steps:
Log in to your Google Account through the login id that you want to use it.
Open the Google.com/business link and then you can select 'Start now' located in the upper right corner.
Now enter your business name and business category to set up your business profile:
Tell your customer do you provide home delivery or official visits or not: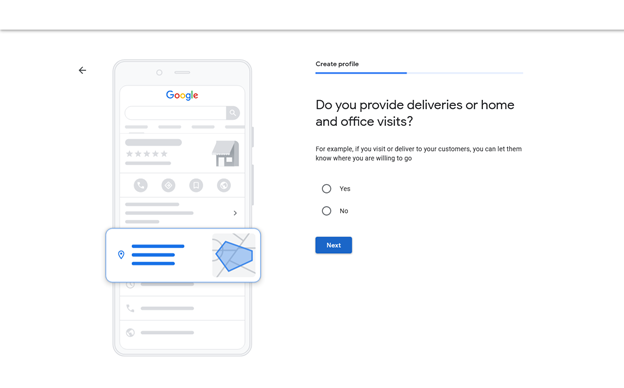 Set whether you want to show your business location on the map or not to which your customers can visit. If you will select "yes" then your customer will be able to locate your business on Google map otherwise not.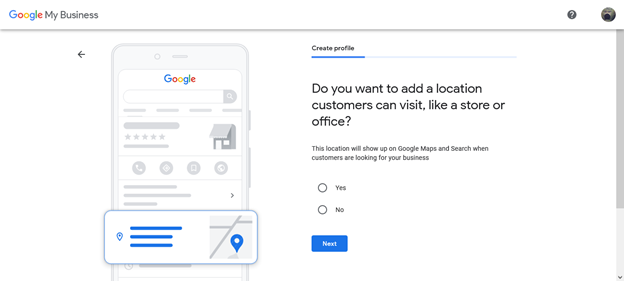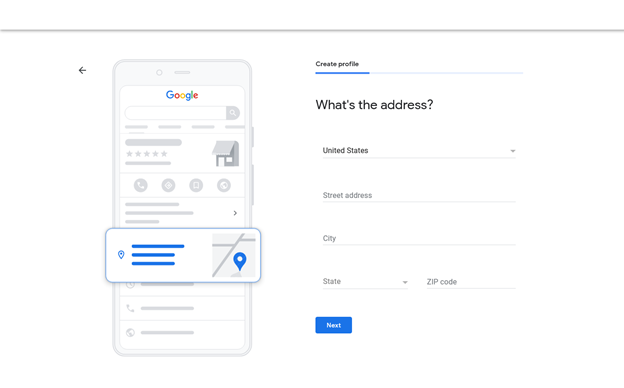 Mark your business location on Map
Note: If you don't have a website created for your business here are tips to create a website in less than 10 min. Step-by-Step Guide: How to Create a Professional Website with WebsFB
As the last step verify your business presence for this following window will get open from where you can click on the Finish button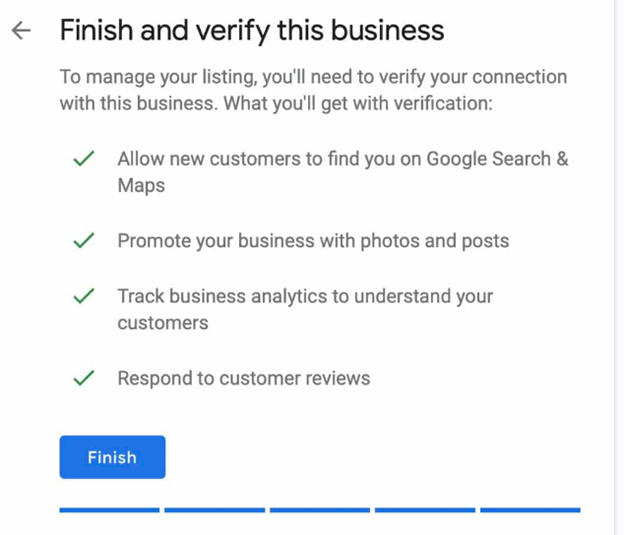 Now verify your business and for this, you may have to select any one option among the following:
Moreover, if you are not ready to verify your business then click "Try with another method" and then "Later".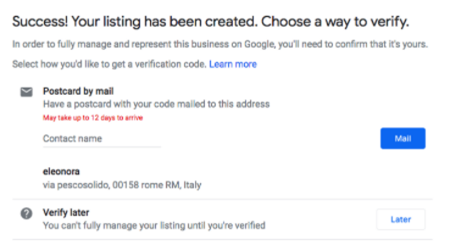 Key Tips to Optimize Google Business Listing?
When you create your business listing on Google now is the time to take advantage and organically reach potential customers. There are the following ways to do so:
Business Review: By releasing customer reviews on Google, you can interact and connect with potential customers easily. This interaction can bridge the communication gap between business and customer. Customer reviews always appear next to your listing in Google Map and Search Engine
Google Post Creation: Post creation is a simple process that is introduced by Google. You can easily create a Google post through Post Menu and publish it. These posts can anytime be viewed, updated, or modified. You can also check the number of views any other analytics of these posts.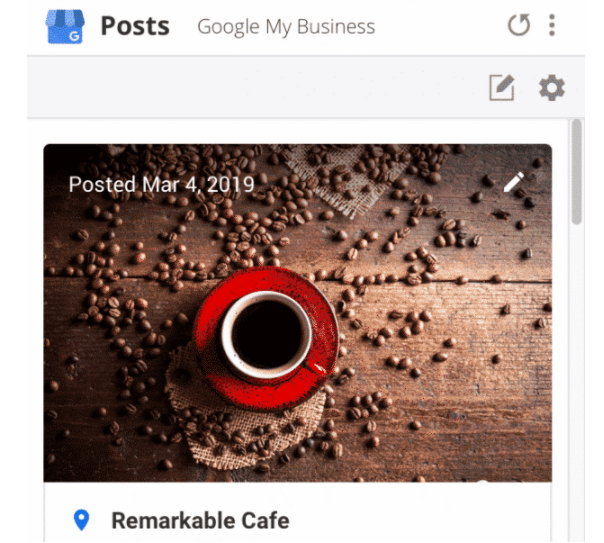 Statistics: Google My Business card is managed by its statistics. These statistics include several types of statistics that help the businesses to know how many times the users have asked about the business and how many times the activity appeared in the search bar.
Google My Business helps businesses in the following three manners:
Give more visibility to the businesses
Help the small businesses in creating their online corporate identity
Ability to access Google's commercial products
You can refer google page to know more about this service. WebsFB users need not worry about these steps as they all get it done without much effort.
How WebsFB can Help Your Business for "Google My Business"?
The WebsFB team helps small businesses in reaching their target customers. Businesses can get their personalized branding site even without any technical skill. The team can help you to set up a personalized business account on "Google My Business" that in turn will help the target customers in reaching your service or product. Small business presence is not only optimized for Google search pages but also Google Map.
Conclusion
Small businesses must have a website but having a website may not be sufficient so there should be a proper business listing to increase its reach. Website building platforms like WebsFB gives users the freedom to make their online presence even if they do not know the coding that too in a few steps.
WebsFB users get the freedom to not only make their online presence but also to reach their potential customers by optimizing their site for Google-like search engines. These days having a website is not sufficient until you do not market or promote your service and WebsFB always helps its customers in making their presence and promoting it as well.
WebsFB is a one-page website building platform that has helped several small businesses in making their website. One-page website building is just a seven-step process on WebsFB and developing the site website promotion on Google or Google My Business listing that we have described here helps the small businesses in reaching their customers.
Making the most of Google My Business is a must for any business on social media, but it's especially important for small businesses. Get more tips on How to Create a Small Business Website In 2021 (Step By Step Guide).
---
---
Subscribe to Stay Updated with Latest News
Easy 7 steps for build your website.