Step-by-Step Guide: How to Create a Professional Website with WebsFB
June 10 - 2 year before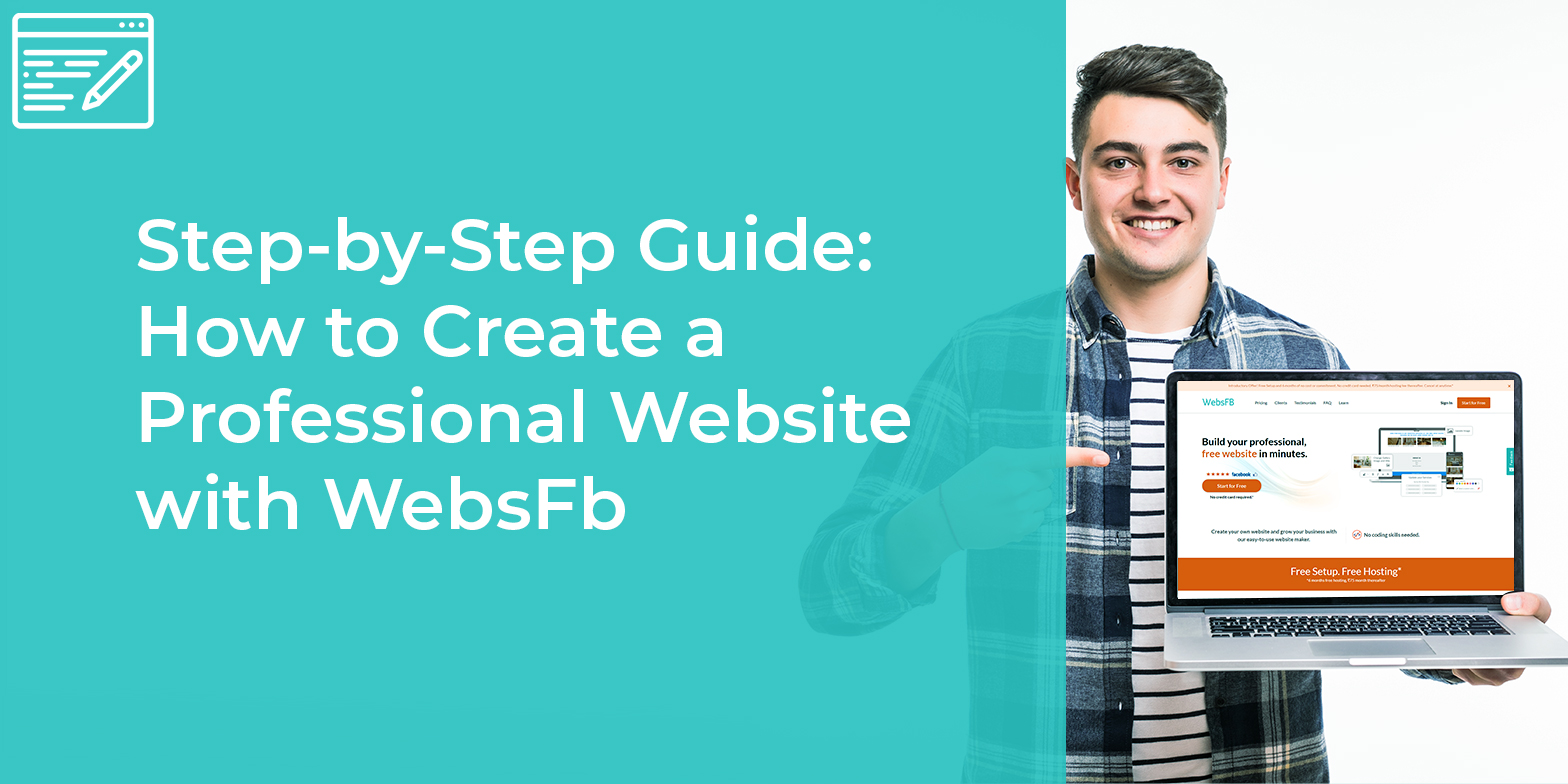 For a business to be labeled as credible, it must at least have a website to its name. It doesn't matter whether your business is small or large, you need a website, at least in today's era. If you've managed to get this far without it, Congratulations. But to grow it further, having a website has many benefits and the biggest one is for your business to be found through Google search. Most consumers will turn to the internet whenever they want to research a product or service they don't know about.
So having a well-designed website that's up and running will give your business a much wider chance of being discovered by potential customers. If they click and like what you have to offer, then your business can open up to new and wider markets with customers ready to consume more.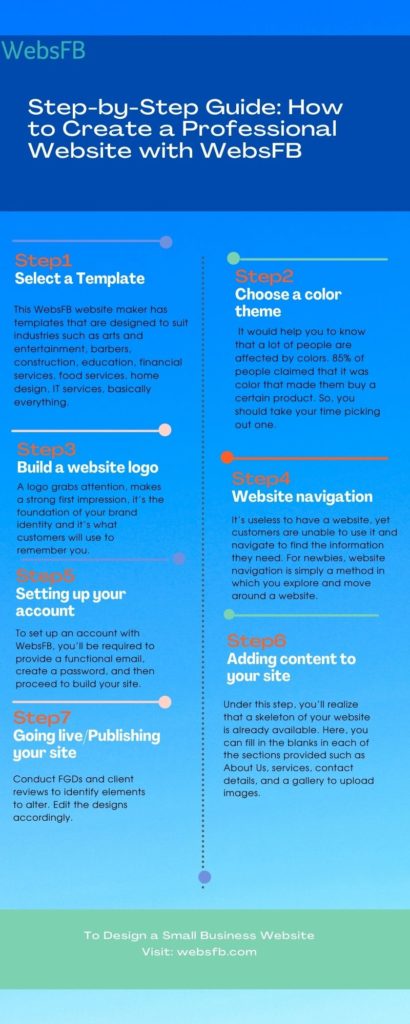 Thinking about making a website? It's easy! Over the years, website software has made it easy for most anyone to create a website without the need to have coding skills. You only need to follow a few simple steps to come up with a professional and easy-to-find website capable of showcasing your business in the best light.
WebsFB does a great job of this. Just a few easy steps you listed below, you can get your business website created and online in minutes. The hardest part would be what message you want to give your audience, not how to create the actual website. Now that's refreshing! Let's get started!
1. Select a template
Selecting a template is the first step to making a website. WebsFB provides several templates for customers to choose from. For a newbie, this process can be a confusing one, with so many templates to choose from. Which templates will you select from the many? The secret here is to avoid going for a template just because it looks cute and nice. You and you alone know your business and what your customers want, so choose a template that would showcase what your business has to offer.
This WebsFB website maker has templates that are designed to suit industries such as arts and entertainment, barbers, construction, education, financial services, food services, home design, IT services, basically everything.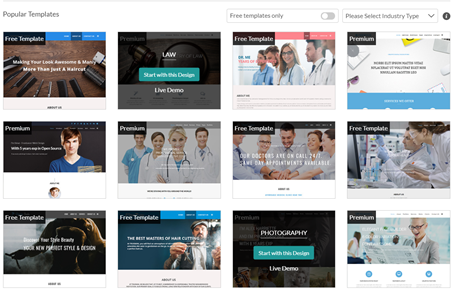 2. Choose a color theme
After you've selected your template, the next step is to choose a color theme. The color theme you select has the power to keep your customers hooked on your brand. The right color theme will help your website stand out and choosing one is simple too. It would help you to know that a lot of people are affected by colors. 85% of people claimed that it was color that made them buy a certain product. So, you should take your time picking out one.
Upon visiting WebsFB, under step 2, you'll notice simple descriptions under every color. They are there purposely to guide you in choosing the most appropriate color theme for your website. For example, the color blue is associated with reassurance, and gives off a "gentle vibe". Yellow is associated with happiness and optimism, red is spells out boldness and creates a sense of urgency. Go for a color theme that will not only give your visitors a beautiful experience but also make them drool at how your website looks amazing.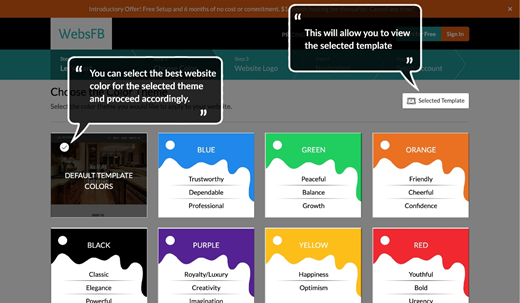 3. Add your Business Name and Upload/Build a website logo
Under step 3, you need to add your business and website name
At the same time, if you already have a logo, simply upload one. If you don't have one, you will be required to enter a company name or business name and a text logo will be made for you based on your website theme-All for free. Why the need for a logo? A logo grabs attention, makes a strong first impression, it's the foundation of your brand identity and it's what customers will use to remember you.
4. Website navigation
It's useless to have a website, yet customers are unable to use it and navigate to find the information they need. For newbies, website navigation is simply a method in which you explore and move around a website. With WebsFB's website builder, you can add up to 7 sections which are:
Home
About Us
Services
Gallery
Contact
The order by which they appear can be changed by dragging and dropping navigation items, plus there's room for more if you want to add other sections. When filling up sections, however, it's recommended that you keep it simple because you want viewers to understand what you're saying.
5. Setting up your account
After you've completed selecting your website theme colors and logo name, you can submit your order for free to websfb.com and then proceed to build your first website for free.
To set up an account with WebsFB, you'll be required to provide a functional email, create a password, and then proceed to build your site.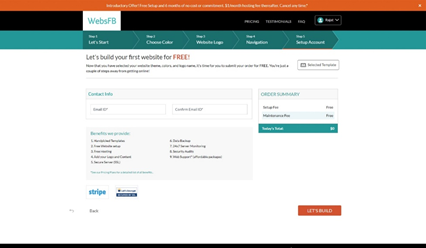 Note: Once you signup sucessfully, please go to your email and confirm your account to start adding content and make your website live.
6. Adding content to your site
Under this step, you'll realize that a skeleton of your website is already available. Here, you can fill in the blanks in each of the sections provided such as About Us, services, contact details, and a gallery to upload images. To add content, simply click on the button that reads edit, and then you can start personalizing the sections. The editing process involves editing logos, changing images/ adding images, and more.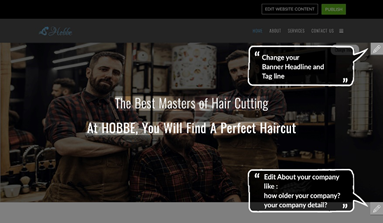 7. Going live/Publishing your site
This is the final step to creating your site. Check whether all sections have been filled, test to see whether they work, confirm if you're satisfied with the work and if you're ready to launch the site. If your answer is yes, you can click publish and your site will go live with a congratulatory message to confirm completion.
Final thoughts
Making a website by yourself is easy when you have the right website maker to trust. WebsFB already has everything in place to get you started. All you have to do is click here to have a professional and functional site created for you within minutes.
If you have any other questions, please don't hesitate to contact our support team at contact@websfb.com. We're always happy to help.
---
---
Subscribe to Stay Updated with Latest News
Easy 7 steps for build your website.
Most Populer Post