WebsFB Premium Custom Websites – Why to Choose? How to Get Your Website in Just 3 Days
January 05 - 1 year before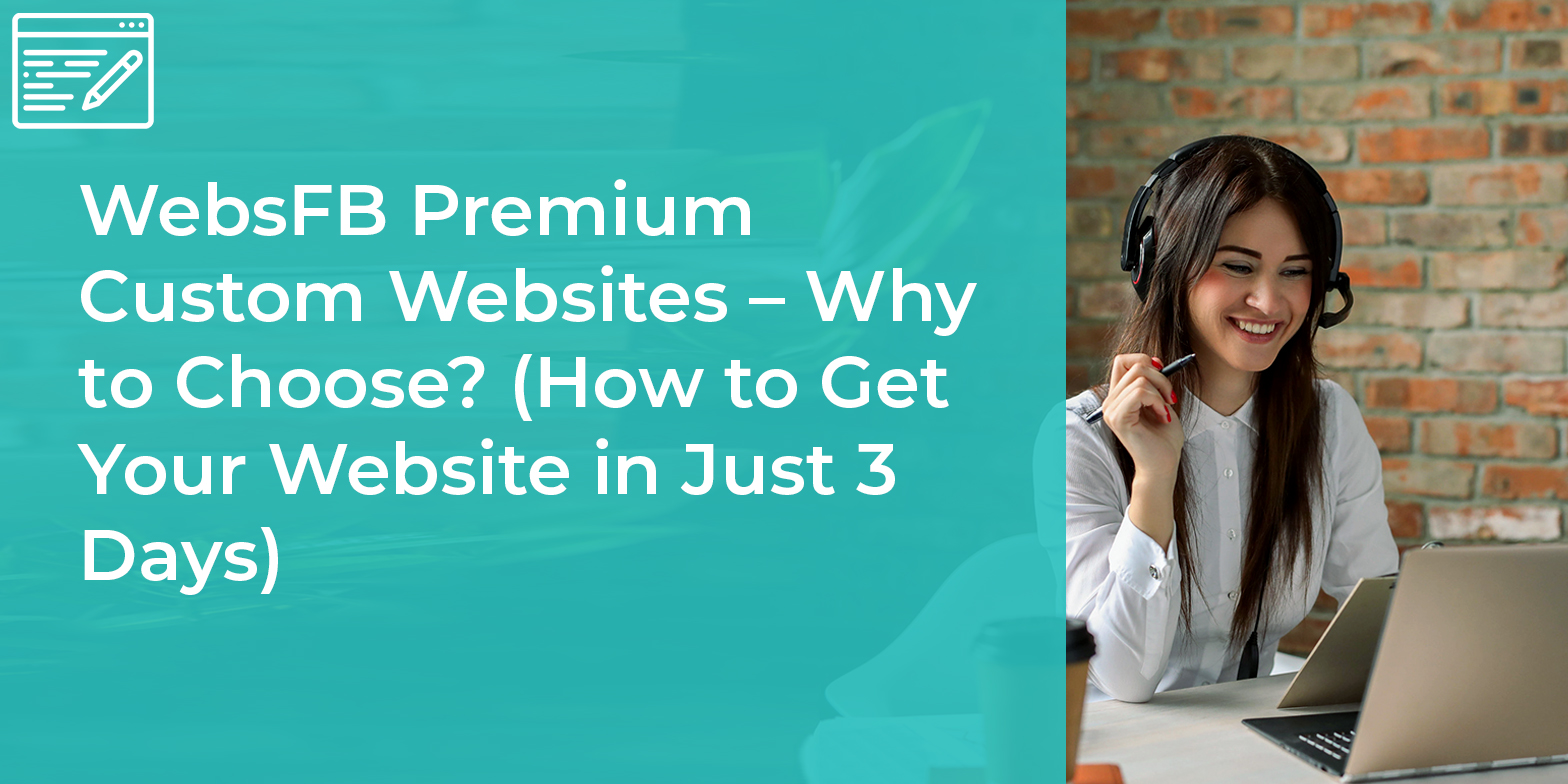 Website builders have become a perfect solution for small businesses to make their online presence. However, the online presence is always important for every small or big business. These days people search the information online and therefore it is important to have an online presence for all businesses of every size. The website gives the way to connect with different audiences from different locations.
Most people even spend their time on the internet when they buy any product online. They mostly search for the product or service online before buying it. As the customers search mostly online to choose their preferred service provider.
Why Should You Have a website?
There are specifically several reasons to have a website. You can also find many options to develop the website. Website development should be accompanied by website management and organization. You can make the website customer-friendly by following best practices.
On WebsFB the website development is just a 7-step process. Small business owners can make their website more customer-friendly by using several essential features. On WebsFB the website creation process is simple and user-friendly.
Popular Website Creation Plans of WebsFB
When you are reading this section then it means you have decided to have a business website. WebsFB users can anytime choose their plan to develop the website. Basic, Silver, or gold plan. Every plan has its benefits. At any time, the business owners can choose the basic plan, but it has some limitations as well.
Basic plan users can develop their portfolio website in just 7 steps and by following simple steps. On the other hand, if you do not want to perform technical steps then you can choose to do it by experts (silver/gold) plan. The detailed benefits of both plans are listed here.
Benefits of WebsFB Premium templates:
Do it for you in just 3 days by Experts.
Made with care – Many additional sections available.
Customization Available
No need to have the technical skills
More bandwidth and storage
Website with Favicon
Video storage
Development assistance
Enhanced hosting
Personalized domain name
Save time & money
If you want to avail of basic benefits for your portfolio website and wanted to create a website by yourself then a basic plan would be a good option for you. You can start by choosing the free templates. In case if you want to avail above beneficial features offered by WebsFB then you should choose a silver or gold plan. Please follow below steps to create a premium custom website.
Website Creation Steps for Done-for-you:
Once you have decided that you'd like to use a done for you (premium custom website) and you've chosen a company, the first step is to pick a pricing plan within your budget.
Often, there will be a few different pricing plans for you to choose from and a detailed description of what each of them includes. Make sure to opt for something that's both within budget and able to meet all your individual needs. Once you selected the best plan follow the below steps:
Step 1: Choose from a range of premium templates
Select the premium template depending on your business theme. The following image shows some of the available templates on WebsFB. From the drop-down menu, you can choose the type of industry and the type of templates that you want to get listed.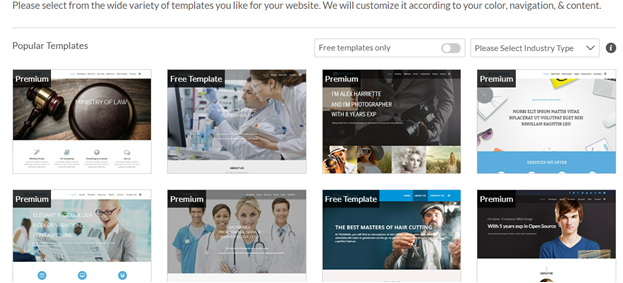 Step 2: Select best Color Theme for your website
Now as the second step you need to choose the color option or theme. From here you can select the color theme either as per your business service or product theme color. Every color theme available on WebsFB has a customized effect. Choosing a suitable color theme can make your site business appropriate.
Step 3: Upload your website Logo or build one
Existing businesses if have their logo, then they can directly upload their business logo file, else can choose another option. If the business owners do not have their business logo, then can take help to create the business logo by selecting the option "No I don't have the logo, build one"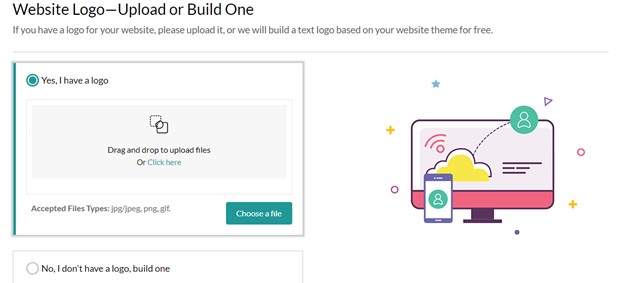 Here if you will choose the yes option then you will have to upload the logo image file. However, if you will choose the second option then you will have to provide the text to design the customized logo.
Step 4: Define Your Website Navigation
When you will upload the site logo now depending on your business details available to you, you can plan and design the site navigation. Here you can add up to 7 sections like shown in the image. In the "About Us" section you can describe yourself and the "Contact" form will help you to collect your customer information.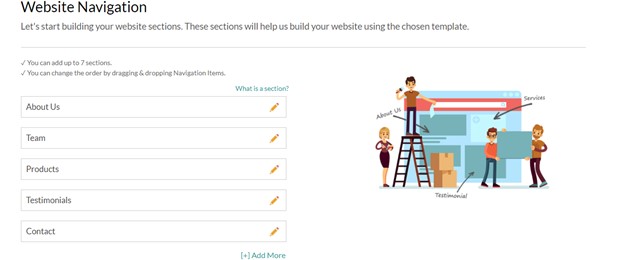 Step 5: Payment
Now as the next step the site users can choose the payment plan of their choice. The payment can be done through all cards. However, you can choose the payment depending on your choice and each plan has its pros and cons like gold plan users will get more bandwidth and no WebsFB link will be added.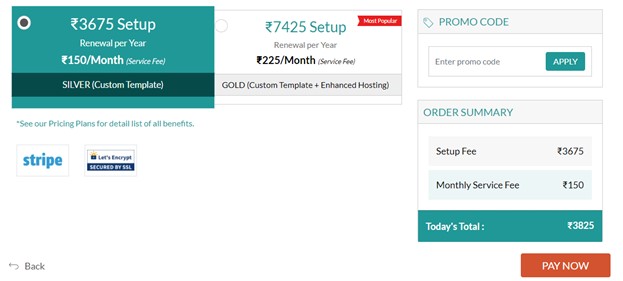 Step 6: Add Content
After making the payment you can add site content. For every section, you will have to provide the appropriate and relevant content. As shown in the following image you can add the content in every section. Whatever sections you will choose from the site navigation section all will appear there.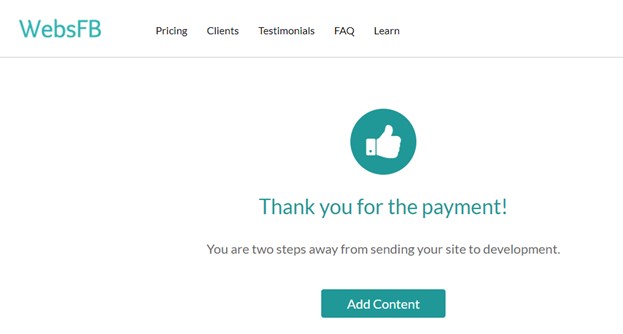 Moreover, if you do not have site content now ready with you then you can upload it later as well.
Step 7: Template Submission
Now you can choose the domain name if you have any existing domain. Moreover, if you do not have your domain then you can still choose the option 'No' and provide your website or business name. In that case, you can get a personalized domain. Right from here, you can submit the website for development.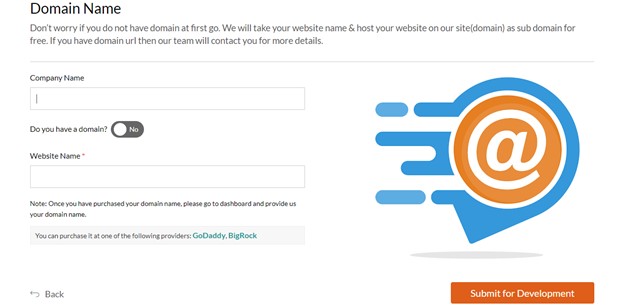 Step 8: Scheduled Date of Live Website!
When you submit, the website then is sent to the development department. On the page, you can get the date on which you will receive the details of your live website. However, once your website will get developed then you will still you can share your feedback and review the developed website before it goes live.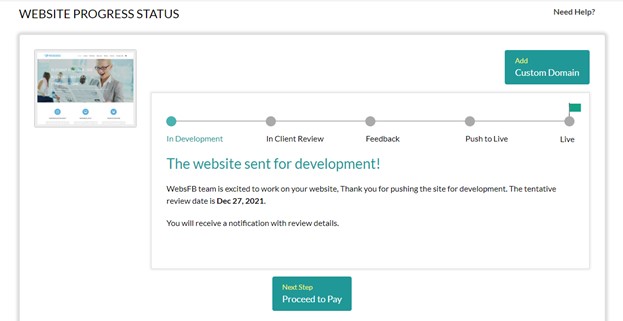 In this way, after going through all steps you can get a complete business website that too in just 7 steps. WebsFB team of expert will create a website for you based on your detailed and deliver your for review within 3 Days.
If you have any questions at all about WebsFB or how we can help you design a website from scratch, feel free to contact us today. You can relax knowing that you won't need to ever worry about how to make a website from scratch again.
---
---
Subscribe to Stay Updated with Latest News
Easy 7 steps for build your website.
Most Populer Post