How to Create a Small Business Website In 2021 (Step By Step Guide)
September 30 - 1 year before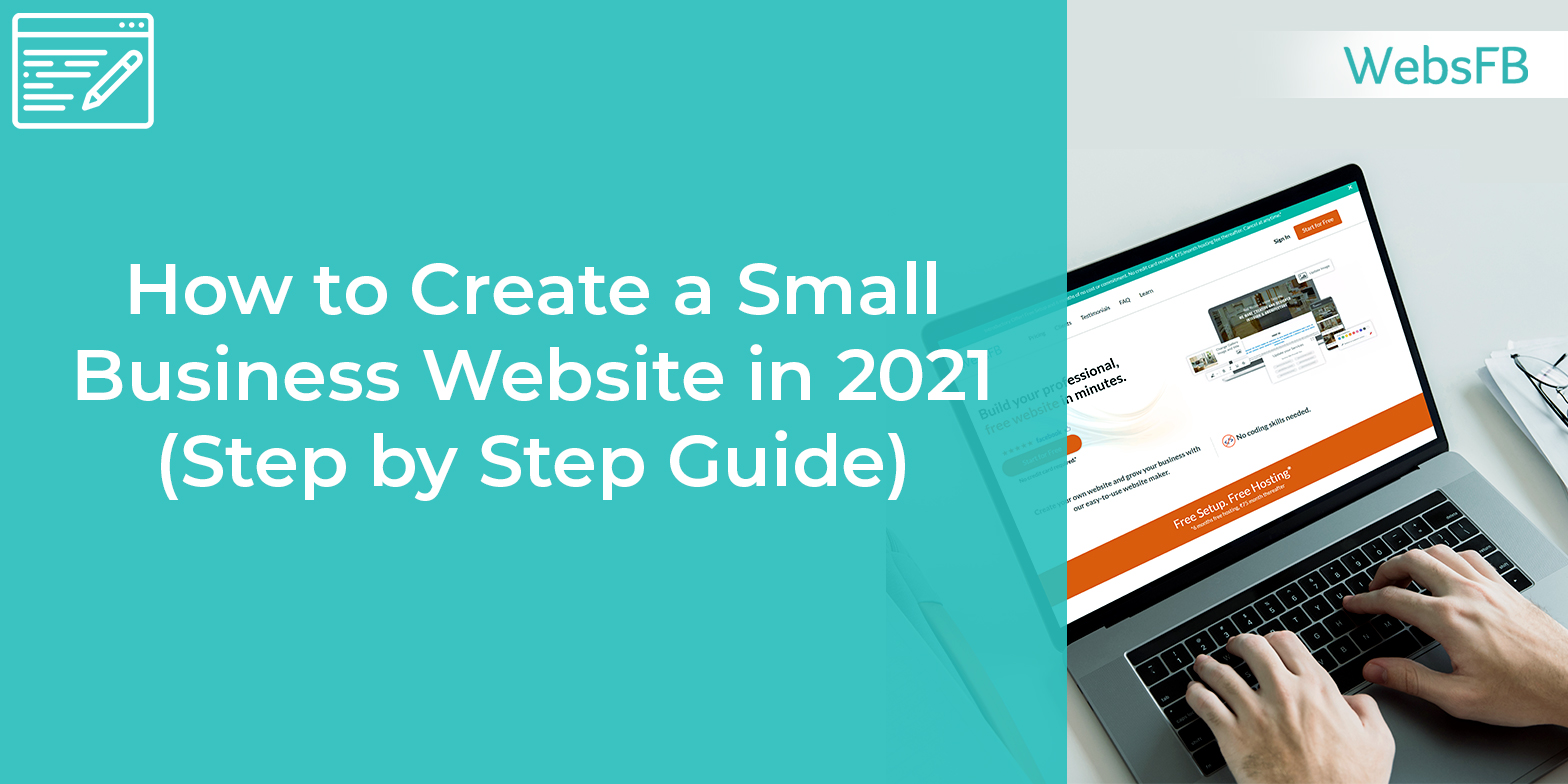 The internet is a constantly changing and evolving entity. With the introduction of new technologies, it's important to stay up to date with the latest web design trends and techniques. If you're looking for ways to improve your small business website building strategy for 2021, this blog post will give you some great tips on how to do so!.35% of small businesses believe they are too small to have a website and consider the development process difficult.
Truly, the process of developing a website is not that much difficult that it seems. Some beginner-friendly platforms help small businesses to create a professional website without any prior experience. Many platforms are budget-friendly as well. In this article, we are going to discuss the main steps to build a small business website.
What Should be Considered to Make a Small Business Website?
When you create a website through any platform then there is no 'one size fits all solution. As a first step, you should have to set your business goal so that you can implement a design element that best suits your business objective. For instance, the website of an educational industry may be entirely different than that of a dentist's office. Whether you want to create a website to inform your visitors about your product or services or want to sell something online the website should look significantly influential. When you decide to make a small business website you should try to answer the following questions:
What information will you convey to your site visitors through your site?
What do you think that your site visitors should do when they visit your site?
How will you display the product or services?
Do you need an online portfolio to showcase your service or product to your customers or site visitors?
While deciding or exploring these questions think about the expected web traffic to know about your site visitors. Your website may even convert to focused customers and provide you in-person sales. Answers to these questions will help you to know which platforms are suitable for your site to generate traffic or increase the site visitors?
Seven Steps to Build a Small Business Website
Once you get a clear understanding of your website now you can get a clear direction for its accomplishments. You can now start thinking about creating your professional website. Here, we are going to discuss the following seven steps to design your website and make an online presence:
Prepare brand strategy
Choose the suitable website building platform
Pick your business website domain name
Select your design templates or theme
Add content to your website
Publish the website and Go Live!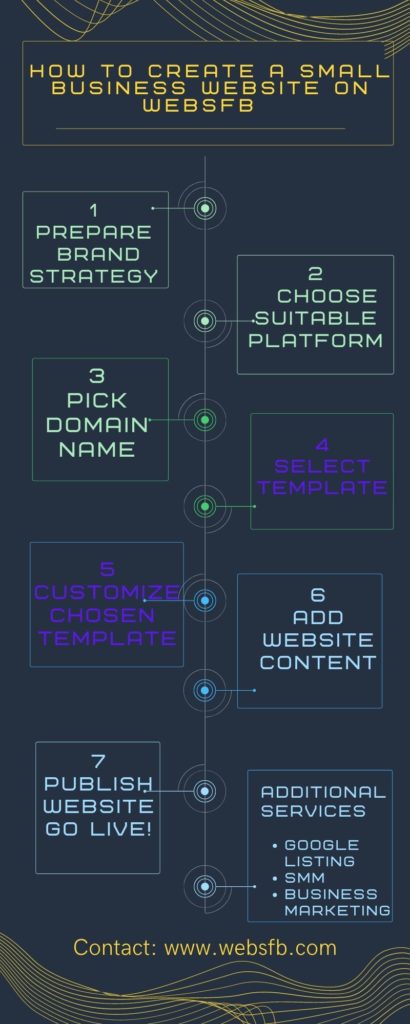 Step 1: Prepare Brand Strategy
The first step to make your online presence is to prepare a detailed brand strategy. You can not plan to have a website without having a solid business plan or idea. This will help you in designing a great website. To make the points clear go through the following points:
Identify the target market:
Know the type of your customer, who are they? Know their demographic groups and what do they like exactly? Know how do they see themselves and how your product or service will influence their lives? Target customer likes and dislikes and their demographic information will help you in influencing them and creating an appropriate web presence.
Perform some market research to know your competitors and the current market trend. Know the strength and weaknesses of your competitors. You can know exactly your carved niche that suits your field.
Identify the key vision for your brand that best describes it. Know the vision that motivates you and is suitable for your client's requirements. Know the color, vocabulary, and style of your brand's personality. They will be the tangible traits of your brand.
Prepare the Consistent Branding Material
Now is the time to be practical and prepare for the material that can be featured on your site and be your branding asset. Do not forget to create your logo, textual content, and branding videos. Do not forget to create your brand identity that should align with your branding strategy.
Step 2: Choose the suitable website building platform
Ideally, you should try to opt for a user-friendly solution that can help you in creating your website that too with minimum or no coding knowledge. Here the small businesses have two options they can hire developers to create the website that may cost a bit high.
As another option, they can also choose a website builder platform on which they can design a business website regardless of technical skills. They don't need to have any knowledge of HTML or CSS to build your website.
Why Choose WebsFB?
WebsFB offers complete website design and customization options with the drag and drop method. This is an open-source platform that can be used by anyone to develop a website without paying any cost. You can create a business website just in 7 steps. The websites developed through WebsFB are purely customizable and theme oriented. You can choose your customization plan or go for a 6-month free subscription offer to grow your business. However, premium plan members get personalized assistance for their websites.
Step 3: Pick your business website domain name
A domain name is like the digital address of your website. It is about how your user will find your website on the online platform. Your domain should reflect your business that can be either registered separately on third-party platforms or the web builder platform also provide the same. Some hosting plans also offer free domain names. Do not forget to check the availability of your domain name before buying it.
The domain name should align with your business objective or your service. Whatever domain name you chose just try to keep it as simple as possible and easy to spell as well. You can also use the business keywords while deciding the site domain. If you are not sure that how should you chose your domain name, then the hosting service provider may also help you in choosing the right domain name.
How to Choose Domain Name on WebsFB?
WebsFB allows small businesses either to use their existing domain name or they can also choose to try a new one as well. Basic plan users of the site may get a subdomain, however, there is always a chance to upgrade the domain name. Moreover, the premium plan users of WebsFB get their dedicated domain with their customized one-page small business website.
WebsFB allows small businesses either to use their existing domain name or they can also choose to try a new one as well. Basic plan users of the site may get a subdomain, however, there is always a chance to upgrade the domain name. Moreover, the premium plan users of WebsFB get their dedicated domain with their customized one-page small business website.
Step 4: Select your design templates or theme
Now you are at the point where you will have to set the design of your website. You can choose any suitable web page design template for this. The template should match your business or industry type. Before finalizing any template have a look at a few of them.
Your chosen website builder will help you in creating or developing the relevant website. Templates are the website frameworks or a blank canvas on which you can paint or design, image, or content of your site. Website templates help you in designing the website that you want to have even without hiring an external designer.
These platforms help you in designing the website for free. There are several plans as well among which either you can choose the free plan or go for the paid ones. Mostly any business can build a simple and basic website for free but to add some extra professional features you may need to pay some extra bugs. You can compare the basic and premium plans as well before choosing any particular one.
Website Templates on WebsFB
WebsFB offers several website templates for several business needs. The customers can choose the relevant one of their choices. You can select the web template that your customer will like and can help you best in showcasing your service or product. You should not choose any template just because it looks good and attractive.
When you start thinking to design your website the following are a few of the main categories. WebsFB users are from the following main categories:
Photography
Blogs
Portfolios
Restaurants
E-Commerce
Website templates are just like "clothes" for your website, so if you do not find any template fit for your website then you can choose any new one for it at any time. Available website templates may and may not be suitable for your business so dive in to find the best template for your business.
Step 5: Customize your website template
When you choose your template now is the time to customize the template. Template customization includes changing images, content, logo, and adding or removal of features. Before you go live the website should look perfect. As you are going to choose an existing website template so it's possible that your competitors or some other similar businesses may have similar websites. So, you may have to choose and customize the selected template with your style and ingredients.
Choice of site feature customization depends on your chosen platform. However, it is largely up to you which feature you think you should customize and some of them are mandatory as well. Most of the latest platforms offer the following feature customization:
Adding new pages or creating a customized website navigation
Changing site colors or adding or deleting new components on the web pages
Image editing on web pages
Editing website logo
Embedding social media videos
Best website-building platforms can walk you through template customization as well.
WebsFB Template Customization
WebsFB users can select and then customize their web template. When you select the template now is the time to choose the color theme on WebsFB. Every website color has some message so choose the relevant color and website template for your website. Now, when you change the color, content, and other website details now you can update the website logo as well. Your website logo is the major aspect of your webpage that can grab customer's attention and make the brand's identity.
Try to make your first impression best on your customer through personalized and unique brand logo customizations. Apart from this you can also design and personalize website navigation. You can add content to your website through a valid registered account now.
Step 6: Add content to your website
When you will customize your website template then will realize that your website skeleton is ready now you can add content to your website. For each of the website sections, you can create and add separate content. Website platforms give a convenient way to add content to the site. Sometimes editing can be done just through some clicks. You should try to use relevant and quality content for the web pages. Not only this even the text used on images or videos must also be matching to the theme. Depending on the product or service you may have to write the following type of content:
How-to Guides
Product Descriptions
About Us Page
Blog Section of the website
Whatever content you decide for your website just make sure that it should add value to your site.
Content Customization on WebFB
WebsFB users can easily add content on their web pages as per their service. Depending on the site sections the users can edit the site content as per their service. Content editing is just a clickable button activity for WebsFB users. You can at any time personalize the site content and edit the logo, image text, or any other section of your web page.
Step 7: Publish the website and Go Live!
Now, this is the final step of website creation. When you decide and finalize everything for your website. Then you can publish the site now or Go Live. However, site completion is a never-ending process, and you will continuously feel the need to make some changes in website color, text, image, or any other information.
This comes under site maintenance. These days sites are mobile and laptop-friendly, and Google also indexes the mobile-friendly website on the first index. So, when you make and publish your site just make sure that it should be mobile-friendly.
Live on WebsFB
Well, Going live on mobile and desktop or laptop is just a single click task on WebsFB. Al sites created on WebsFB are by default mobile-friendly so compatible with all mobile devices. Moreover, the chances of Google ranking are quite high as well. You only need to click the "Publish" button to launch the website. WebsFB users do not have to wait to come live. However, before going live just
Additional Tips
Tip1: Promote your website
You may have developed the best website for your business but without promoting your site you cannot reach all relevant audiences. The launch of a website does not guarantee that everyone will know about it. Website and service promotion are of utmost importance to highlight the business. Usually, there are the following techniques to promote the website:
Word of Mouth Promotion
In-person Promotion
Promotion through Local Businesses or Associations
Site URL inclusion in Social Profiles
Google Submission
In this way, you can build an awareness of your website and generate traffic. However, the enlisted promotional ways are free of cost but can boost your online presence.
Service/Business Promotion on WebsFB
WebsFB offers a complete business portfolio creation and management service to small business owners. Just like website creation, the task of business profile promotion is also an easy task for WebsFB clients. The service of the WebsFB clients gets promoted through several platforms and they get better recognition as well.
Tip2: Optimize your website for search engines
These days consumers mostly rely on search engines when they must find something that may be either a restaurant or B2B software provider. Hence, regardless of your business or service your target audience may search your product or service through a search engine like Google. You can either do it by yourself through some tools or can also ask for help from WebsFB. SEO techniques help websites in improving their search engine ranking.
How WebsFB helps in SEO?
At WebsFB website designing and service promotion are equally taken care of for every client. A personalized web promotion service is offered by the company. All SEO aspects include:
Creating a Google Business Account
Business listing on multiple sites
Social Media Marketing and Promotion
Blog Management
Email Marketing
All of these and many other SEO services are offered to the clients by WebsFB to boost the online presence of the service. With WebsFB you need not take care of other social media marketing and promotion activities.
Wrapping Up!
Making a customized website for small businesses has not been that much difficult. This article has led you through the steps of building your very own professional website, from signing up to promote your stunning new site.
Though it may seem like a lot of steps, you can build a site at amazing speed thanks to WebsFB's design-assisted editor. Perfect for beginners who just want a simple site, or for anyone needing to get online fast, WebsFB is an enjoyable website builder to use.
Now you know exactly how to build a website, but the fun doesn't stop there.
Your website builder journey never really ends – you'll constantly be updating, changing, and managing your site. You can track your site's success from your WebsFB dashboard.
In case you need a quick reminder of how to build your website, here are the steps outlined again below:
Prepare brand strategy
Choose the suitable website building platform
Pick your business website domain name
Select your design templates or theme
Customize your website template
Add content to your website
Publish the website and Go Live!
You don't need to commit to a paid plan to try out these steps – all you need is WebsFB's free trial, which lets you try before you subscribe. That way, you know exactly whether WebsFB is right for you.
With a generous 6-month free trial, there's no harm in giving WebsFB a try – we've shown you the way, you've got the steps down, so what are your waiting for? Pave your way to online success with WebsFB's website builder and enjoy the journey!
Note: You can also request the WebsFB team to create a website for you. They will create a website for you in just 3 days.
So, what do you think now about the above website building steps is it still tough to develop the website? Share your thoughts in a comment!
---
---
Subscribe to Stay Updated with Latest News
Easy 7 steps for build your website.
Most Populer Post