The Complete Guide to Creating an Email Marketing Strategy in 7 Simple Steps
March 17 - 6 month before
Introduction
In today's world, we have overloaded with content. With so many emails being sent to us every day, so; we often get content overload, and there are emails that we can't always keep up with. However, it is still important to maintain a healthy email marketing strategy for your business to nurture leads and grow your contacts database. We are here to discuss how to do just in 7 simple steps. 
Step 1: Determine Your Goals
If you are going to create a successful email marketing strategy, the first step is to determine your goals. What do you want to get from your email marketing campaign plan? Want to increase brand awareness, drive website traffic, or generate more leads? Who will be the target audience for your email marketing plan? Once you know what you want, you can set measurable goals and KPIs (Key Performance Indicators). Next, you need to have a look at some of the common goals for email marketing campaign strategy, which are stated below:
Increasing website traffic  
Generating leads  
fostering relationships with customers  
boosting sales 
Step 2: Identify Your Target Audience
The second step is to identify your target audience. This is because your email marketing campaign will be more effective with a target audience, and you will have an easier time achieving your desired results. There are many ways by which you can identify your target audience.
One way is to consider who your product or service is best suited for.
Another way is to think about who you want to reach with your email marketing campaign.
Once you understand your target audience, you can begin developing your email marketing strategy plan. 
Step 3: Lists of Emails
Assuming that you have a list of email addresses, the next step is to segment that list into groups. There is the best way to do this is by using what you know about your customers and dividing them based on criteria such as:  
Age 
Gender 
Location 
Income level 
Interests/Hobbies 
You can also segment your list based on past purchase history or other interactions with your brand. Once you have your segments, you can start creating targeted content for each one.
Step 4: Develop Your Email Marketing Message
If you have already segmented your list of contacts, then it is time to start writing your email marketing message. Through this, you will be able to speak directly to the needs of your target market, which you should have a good understanding of by now.
If you are going to write an email marketing message, you need to be sure to keep the following in mind: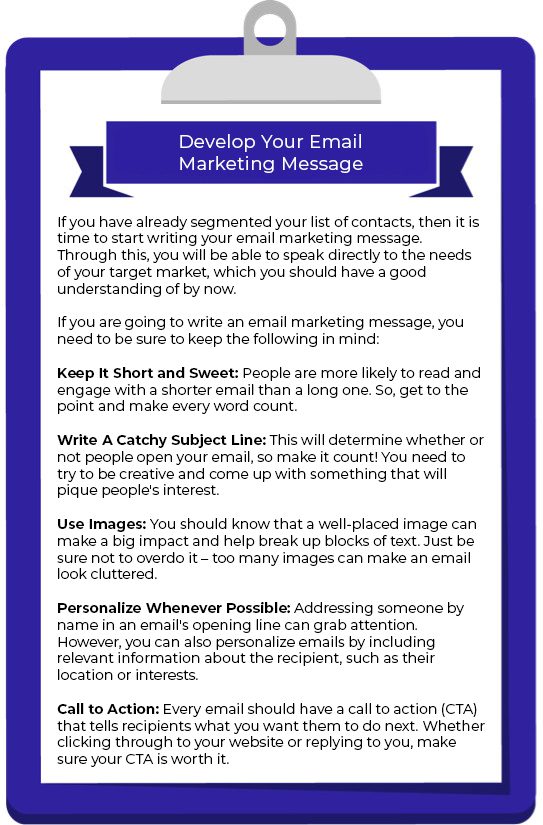 Step 5: Craft an Effective Call to Action
Your call to action is essential to your email marketing strategy plan. It's what tells your subscribers what you want them to do and drives conversions.
There are some things that you need to keep in mind when creating your call to action:
You need to make it clear what you want your subscribers to do. Be specific and use strong language.
You can make it easy for your subscribers to take action by using a button or an HTML link and ensuring it is placed prominently in your email.
Include a sense of urgency by giving subscribers a reason to act now.
You must test different CTA to see what works best for your target audience. Try different wording, placements, and offers to see what gets the most clicks.
Step 6: Create A Unique Design Layout
Assuming you have completed the previous steps in this guide, it's time to make your email marketing strategy campaign stand out from the competition with a unique design layout. This step is crucial because it will help your emails stand out in subscribers' inboxes, making them more likely to be noticed and acted upon.
While designing your email layout, you need to consider using a single-column design instead of the traditional multiple-column layout. If you do this, it will help to make your email more mobile-friendly and easier to read on smaller screens. In addition, you'll need to use plenty of whitespaces to break up your content and make it easy to scan and use headlines and subheadings to guide readers through your message.
In terms of visuals, you need to use high-quality images which should be relevant to your content, and that will capture attention. Use only a few images, as it can make your email seem cluttered. So, it is recommended that we focus on quality over quantity.
Next, you'll need to opt for a color scheme that should be eye-catching and professional, stick to a limited number of colors so as not to overwhelm readers, and use complementary colors that create visual interest without jarring. Considering these tips, you are good at creating a stunning email layout that will help your messages get noticed and drive results.
Step 7: Consider the Other Details
Assuming you have your list of subscribers, it's time to start thinking about the other details of your email marketing plans. Below are stated a few things to consider:  
Make a colorful box to put this block content in this:
These are just a few things you'll need to consider as you put together your email marketing strategies. By taking the time to consider all the details upfront, you'll save yourself a lot of hassle later.
Conclusion
Email marketing is still one of the most effective ways to reach your audience and promote your business. Following these seven simple steps, you can create a successful email marketing strategy to help you achieve your goals. And if you're looking for more tips on improving your email marketing plan, be sure to check out our blog for the latest advice available on WebsFb – a website builder. For small businesses, it is a great platform to create a business website with the help of 7 simple steps. 
---
---
Subscribe to Stay Updated with Latest News
Easy 7 steps for build your website.
Most Populer Post