How to Create a Carpentry Services Website – A Step by Step Guide 2021
November 08 - 7 month before
Introduction
Carpentry is a skilled and popular trade and most of the carpenters work for buildings, houses, smaller bridges, construction sites, and many more. Today the business of carpentry has changed a lot but still, the service is equally popular. If carpentry is your profession or family business then you can turn it into a lucrative business by following the right path.
Today every small, medium and large business needs an online presence to boost its sales. The online portfolio of the businesses can be used to showcase their product or services. For the same reasons carpenters can use the website to showcase their past projects and inform the customers about the latest tools and technological information that they use.
Now the small or large businesses like carpenters can focus on marketing and grow their business without any coding knowledge and expertise. Carpenter business can stand out from the competitors by having an online presence through the business website.
Why Should You Have a website?
Today most small businesses are slow in creating their website. They are slow in creating the website including carpenters. However, the fact is that a website can help small businesses in generating more revenue. Some of the reasons to have a website or online portfolio for every business size are:
Your customers may expect you to have the website
The website can be the best way to showcase product or service
Businesses can find their target customers
Websites are easy to maintain and update
The online presence of the businesses can help them in making their marketing strategies and generating more leads. They can also use social media platforms for the same purpose, but it is not the appropriate way to reach your customers. The reason is that customers keep on switching from one social media platform to another. A properly maintained website can promote your business and help you in making your presence stronger.
How to Create the Website?
The business website is your key marketing tool and can make your virtual presence stronger. For a carpenter website if you want to create a personalized branding site then you can easily do it by using website-builder. Here before developing your website you can check some of the competitor's sites and make sure that it should be user-friendly.
The standard steps involved in website creation are:
When you design or develop the website for your business then you have two options. You can either choose a website-building platform or hire an expert for the same. However, if you will choose a DIY or do-it-yourself platform like WebsFB then you need not hire a technical expert. These platforms are budget-friendly and anyone even any non-coding background person can make a website through the platform.
Website content is the medium that can convey your offering to your customers. Your site visitors not only come to visit your site even to get more information about your business and service or product check the detailed description on your website. Your site should have quality content. Long sentences are not desired by the visitors, however, the site content should be crisp and informative. You can easily create site content that should revolve around your product or service.
Small business owners can also customize their websites matching with their services. Website building platforms like WebsFB can be the best way to build and customize the site. Here the customization is not a difficult process you can make the ultimate branding site and customize it as well if ever you have to change or update the site content or product or service information or your logo then you can easily take the help of update feature of the site and customize it.
Site maintenance is equally important as website development. Due to many reasons like upgrading the site or updating any site feature or enhancing its capability, you may need to update the site. Site maintenance is about taking care of all such aspects that are part of every site development. Moreover, site security and protection are major concerns. Website maintenances take care of all such aspects.
Service or Product Promotion
When the small business owner develops their site and wants to get more traffic or customer then they have to promote their service. Service or product marketing can not only enhance your reach but rightly done product marketing can also improve sales by bringing the right target audience to your site.
You can bring more customers to your site if the service will be promoted in the right way and through the right channel. Some businesses use digital marketing while others use social media to promote their product or service.
WebsFB a Perfect Platform to Develop Carpentry Service Website-Know Why?
So, now you know all the required steps to develop the website and all points related to website development. If you are looking for any DIY platform to create your perfect carpenter website then WebsFB is the right platform. WebsFB offers several ready-to-use templates to its carpenter clients.
The WebsFB is a quick and customer-friendly website building platform through which the carpenters can either develop their website by themselves in minutes or get it done by their talented team in just 3 days.
Some of the other offered features of WebsFB offerings are:
DIY and Get it Done both Website Creation Options
Responsive/Mobile-Friendly one-page websites
Site development and maintenance
The site and product promotion
Security compliance
The carpenters can showcase their products and service through their personalized website and use their site as a portfolio to prove their authenticity.
Popular Carpenter Website Templates on WebsFB
Carpenter is a skilled trade and much popular from last many years. The WebsFB themes are packed with lots of practical options, you can showcase your most iconic products through these templates. Whether you sell wooden toys, shelves, or furniture you can showcase all products from different angles and highlight the best one.
Fixology:

Through this "FIXOLOGY" theme or template you can use slider images to showcase or display the product design. In the above site template, you can use the site portfolio feature to display required and essential information.
BoldMan: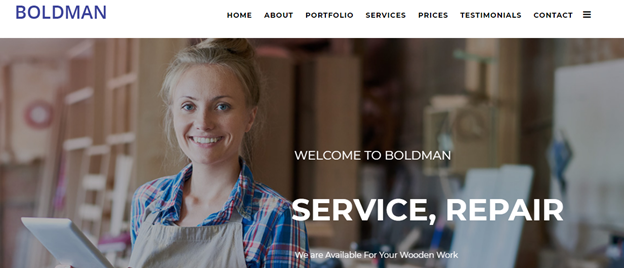 Through "BOLDMAN" template the carpenter can also display their service in detail, portfolio along with testimonials. The theme is best if you want to showcase your last customer reviews or testimonials and want to display the product or service prices to your users.
Craftio:
"CRAFTIO" theme of WebsFB is perfect for the carpenters that have a huge skilled team. They can showcase their past portfolio products and give price details to the customer. Through contact details, you can also inform your location to your customer and the stats option will help you to enlist past performance details.
---
---
Subscribe to Stay Updated with Latest News
Esey 7 steps for build your website.