How to Build a Website for Free in 2023: A Step-by-Step Guide
April 05 - 8 month before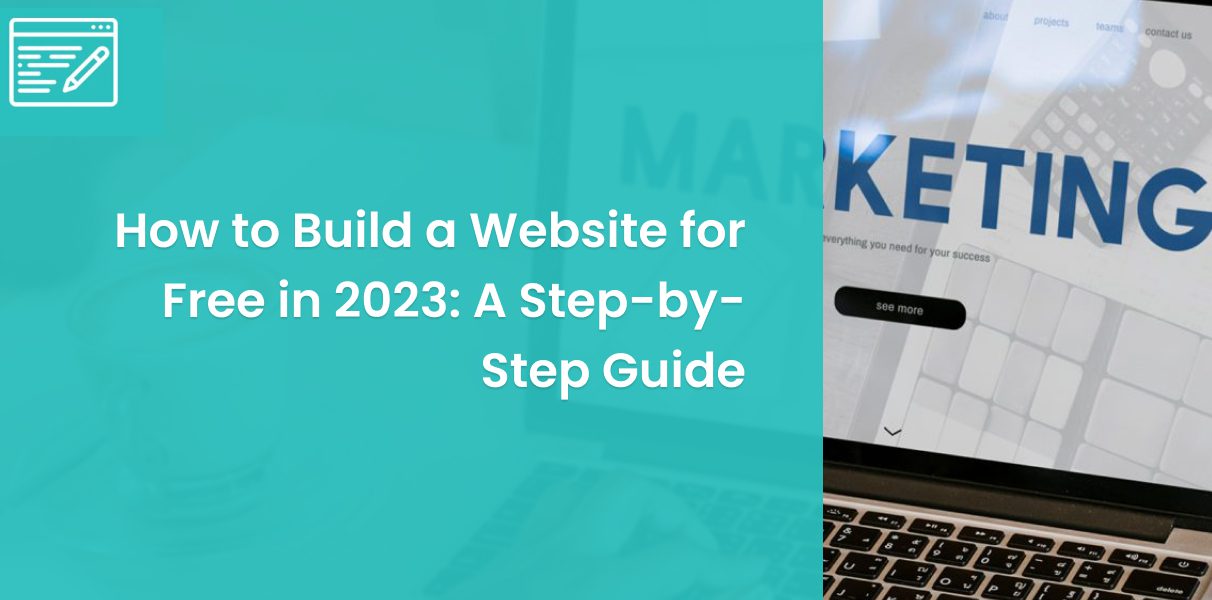 Building a website has become essential in the digital age. Whether you're an entrepreneur, blogger, or freelancer, having an online presence is crucial for success. However, creating a website can be intimidating, especially if you're on a tight budget. Fortunately, in 2023, building a website for free is easier than ever. In this article, we'll provide a step-by-step guide to help you build a website for free.
Step 1: Choose the Right Platform
To build a website for free, you need to choose the right platform. Fortunately, there are many website builders available that offer free plans. Some of the most popular ones include WebsFB, WordPress, Wix, Weebly, and Squarespace. Each platform has its own strengths and weaknesses, so you should choose one that meets your needs. For example, WordPress is an open-source platform that provides a lot of flexibility, while WebsFB is a beginner-friendly platform that offers a lot of design options.
Step 2: Select a Template
Once you've chosen a platform, the next step is to select a template. Most website builders offer a wide range of templates that you can choose from. Templates are pre-designed and make it easy to create a website quickly. When selecting a template, consider the following factors:
Responsiveness: The template should be responsive and mobile-friendly, meaning that it should adjust automatically to different screen sizes.
Design: The template should be visually appealing and match your brand or business.
Navigation: The template should be easy to navigate and user-friendly.
Step 3: Customize Your Website
After selecting a template, you can start customizing your website. This includes adding your own content, images, and branding. Most website builders have a drag-and-drop interface, making it easy to customize your website without any coding knowledge. Here are some tips for customizing your website:
Content: Your website's content should be informative, engaging, and optimized for search engines. Use relevant keywords and meta descriptions on each page to improve your chances of ranking higher in search results.
Images: Use high-quality images that are relevant to your content. You can find free stock images on websites like Unsplash and Pexels.
Branding: Use consistent branding elements such as colors, fonts, and logos throughout your website to create a cohesive look and feel.
Step 4: Create Essential Pages
Every website needs essential pages such as a homepage, about page, contact page, and a blog page (if you plan to have a blog). These pages are essential for providing information about your business or brand and connecting with your audience. Here are some tips for creating essential pages:
Homepage: Your homepage should provide a clear overview of your website and what you offer. Include a call-to-action that encourages visitors to explore further.
About page: Your about page should provide information about your brand or business, including your mission, history, and team members.
Contact page: Your contact page should include a form or email address that visitors can use to contact you. Make sure to include your business hours and location if applicable.
Blog page: If you plan to have a blog, create a separate page for it. Your blog page should provide a list of your latest blog posts and categories.
Step 5: Optimize for SEO
Search engine optimization (SEO) is a critical component of building a website that ranks in Google organic search results. To optimize your website for SEO, ensure that your site structure is well-organized, your content is high-quality and relevant, and your pages load quickly. Here are some tips for optimizing your website for SEO:
Site structure: Ensure that your website's structure is well-organized, with a clear hierarchy of pages and content. Use descriptive URLs, and create a sitemap to help search engines crawl your website easily.
Content: Your website's content should be high-quality, informative, and relevant to your audience. Use relevant keywords throughout your content, but avoid keyword stuffing, as it can harm your SEO.
Page speed: Your website's pages should load quickly to improve user experience and SEO. Use a website speed test tool like Google PageSpeed Insights to check your website's speed, and make necessary optimizations, such as compressing images, minifying code, and using a caching plugin.
Step 6: Publish and Promote Your Website
After customizing and optimizing your website, it's time to publish it and promote it to your audience. To publish your website, you'll need to purchase a domain name and hosting. Most website builders offer domain and hosting services, or you can purchase them separately from a domain registrar and web hosting company. Once your website is live, promote it on social media and other online platforms to reach your audience. Here are some tips for promoting your website:
Social media: Use social media platforms like Facebook, Twitter, and Instagram to promote your website and share your content.
Email marketing: Use email marketing to reach out to your subscribers and promote your website's content.
Influencer marketing: Partner with influencers in your niche to promote your website and reach a wider audience.
Paid advertising: Consider using paid advertising platforms like Google Ads and Facebook Ads to drive traffic to your website.
In conclusion, building a website for free in 2023 is easier than ever, thanks to the many website builders available. By following the steps outlined in this article, you can create a professional-looking website that ranks well in Google organic search results and connects with your audience. Remember to choose the right platform, select a template, customize your website, create essential pages, optimize for SEO, and promote your website to reach your audience.
---
---
Subscribe to Stay Updated with Latest News
Easy 7 steps for build your website.
Most Populer Post