What Is Off-Page SEO? A Comprehensive Guide
December 14 - 11 month before
"Off-Page SEO is referred to bringing an audience and also to links from high-authority websites. It focuses on ranking, which can be managed from outside of your website link or backlinks on other websites."
What is Off-Page SEO?
Off-page SEO is sometimes also referred to as "off-site SEO." It is a complex and ever-changing field, but it's important to keep up with the latest trends if you want your website to rank well in Google. Focusing on on-page SEO and off-page SEO can give your website the best chance of success. Many different techniques can be used for off-page SEO, which are stated below:
Why Is Off-Page SEO Important?
Off-page SEO is optimizing a website for Google search to earn higher web traffic levels and improve the site's visibility. The main difference between on-page and off-page SEO is that on-page SEO focuses on optimizing the content and design of your website. In contrast, off-page SEO focuses on building links and promoting your site to Google and other search engines.
If you are a small business owner, you must consider off-page SEO. This is because it helps in building your website's domain authority. If you are not doing it, your website may struggle to outrank websites with higher authority that tends to rank better than those with low or no authority, as search engines consider them more credible, relevant, and trustworthy.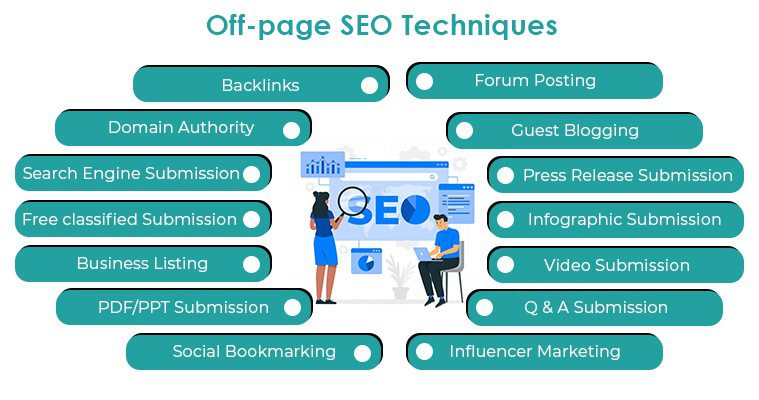 The 13 Most Important Off-Page SEO techniques are as bellow
Backlinks
It is also known as an "inbound link" or "incoming link," are link from one website to a page on another website. Getting more backlinks will help your website rank on the top page of SERP. It is the process of getting other websites to link to your business website. The more high-quality links you have, the better your website will rank in Google. Link building can be done in many ways, such as writing guest posts on other blogs, leaving comments on relevant websites, and creating social media profiles.
Domain Authority
DA will tell the website's overall score from where you get the backlinks for the website. It refers to how many valuable backlinks are to your domain and the authority of those links.
For example: - The domain of .edu usually has better authority than .com or .net domains.
Search Engine Submission
You should submit your website to a maximum number of search engines. Most people only submit their websites to the most popular search engines like Google, Bing, etc. Still, they should also be submitted to other search engines like Baidu, AOL, Ask.Com, Excite, DuckDuckGo, Wolfram Alpha, Yandex, Lycos, Chacha.com. (Depends upon the business requirements).
Free classified Submission
It is a kind of technique in SEO where you advertise by doing classified submissions. It is a kind where you can upload or create ads according to your business on different free classified sites to get new customers.
Business Listing Sites
For Getting traffic to your website many businesses are listing on different places like google Business Profile, Bing, Yelp, Yellow pages, Justdial, etc. It will help to make it simple for the local customer to find the information about your business-like Address, phone number, website, reviews, etc.
PDF/PPT Submission/Article Submission
You can get quality traffic to your website by submitting PPTs to other websites. Then, you place your website link in that PPT. So, when someone searches for the information, finds your PPT, and clicks on your link (which you placed on the PDF/PPT), it comes to your website. Article marketing involves writing articles and submitting them to article directories to build up links to your website. Today's trends mainly focused on content marketing rather than other activity.
Social Bookmarking/Social Media Engagement
When you tag a website page with a browser-based tool that you can again come to visit that page easily it is called social bookmarking.
Share, comment on, and like other people's content to increase your visibility on social media platforms. You can also create shareable content of your own to boost your social media following.
Forum Posting
When you participate in online forums like Quora, Reddit, Medium, etc. for discussions and post your links, it creates traffic to your website. It's like you reply to someone's question, and then the other again raises another question or makes a discussion with you.
Guest Blogging
This involves writing articles for other websites in your industry or niche. Guest blogging refers to when you invite someone from outside of your company to write a blog that will be published on your website. The writer will usually be an expert on the subjects.
Press Release Submission
When you launch a new product or service then you write about new things, new information, events, or anything, and submit it on press release sites. Press Release is always written with SEO technique to get more and more traffic to your website. Most businesses do this after launching their product or services so that people will aware of it and the information avail on the internet.
Infographic Submission
A visual representation of some information is called an infographic. Creating infographics can help increase brand awareness and drive traffic to your website. There are several infographic submission websites where you can submit your visual information to get backlinks for your website. Nowadays, it is very popular as the reader like to see the visuals instead of reading long material. Some popular ones include Pinterest, Visual.ly, SlideShare, Flickr, Photobucket, and Infographics.
Video Submission
The submission of videos having information, events, or any other type on submission websites is called video submission. Create engaging videos that promote your business or product and share them across social media and other video-sharing websites. This is a very popular technique nowadays as everyone wants to see videos instead of reading paragraphs.
Q & A Submission
When you answer questions on different websites from different people, it helps to generate traffic to your website through backlinks.
Following are a few Q&A websites to submit Q&A submissions. Quora.com, QsAns.com, StackOverflow.com, SuperUser.com, AskMeHelpDesk.com, Ehow.com, AskDeb.com
Influencer Marketing
If you want to know about influencer marketing, it comes in several different forms today. In recent years, people used to get bloggers' help through sponsored posts. But today, things are different. Nowadays, it is all about YouTube, Instagram, and other social sites.
For business people, it can be a phenomenal way to build their brand, amplify their content, and reach new audiences. If you go with influencer marketing, then influencers can go a long way to helping to ensure that you are present on different social media platforms. As a result, your business will be present on these platforms where you can get high-profit rates.
Conclusion
After reading this blog, you must know how crucial off-page SEO is and how we can implement it to drive traffic to your websites—off-page SEO core focuses on driving traffic that impacts the ranking of your website in SERP. But you can do it only when you have a business website. You need to create a small business website if you don't have one. So, are you looking for the best website builder? If you say yes, WebsFb is a great place to create a small business website by completing 7 simple steps.
---
---
Subscribe to Stay Updated with Latest News
Easy 7 steps for build your website.
Most Populer Post