Why Should You Have A Business Consultant Website?
July 06 - 1 year before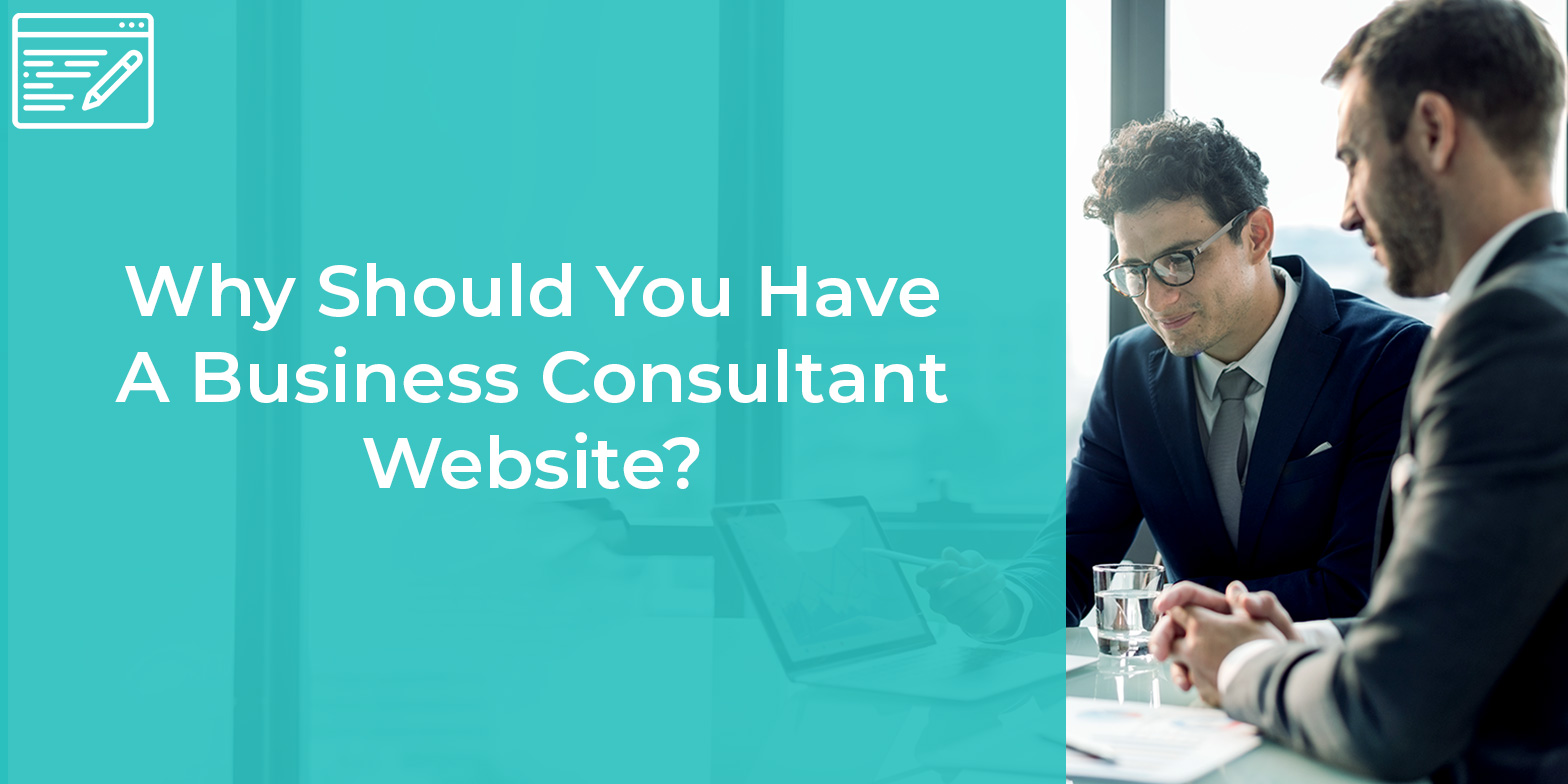 For an individual or a business consultant company, people visit you for consultancy for their business matters because you are the expert in your field. A Website is essential for the progress of the business. It is one of the most important tools for your business growth.
In this digital era, many businesses register themselves on various platforms, especially by making a business website. You must show your online presence in this global village with your website. So, why don't you think about this matter seriously? Of course, maybe your business is running well, but to make it go smoothly, you will need to have a business consultant's website. It will not only create your online visibility, but it will also help you to get more customers.
We know that making a website is not easy as it seems simple. Hiring professionals and expending a lot of money and effort seems difficult. But don't worry about it; there is a solution by which anyone can create a business website for themselves effortlessly. One of such is WebsFB- designed especially for small business owners who can create a business website for themselves.
Why Does a Consulting Company Need a Business Website?
Good business people always look for consultants who help them give solutions in their business's challenging times. So where will they find you? First, of course, they will jump on search engine portals like Google to see the information about you. According to a recent statistic, less than 64% of small businesses have an online presence on the internet. In addition, more than 36% of businesses don't have a website whereas small business owners said that their business is not so big that they invest in making a website for their business. Hence, 70-80% of businesses lost their potential coatomer's without a website.
Know Genuine Reasons Why Consulting Business Needs a website.
To promote the business.
To gain maximum profit.
To tackle the maximum market.
By capitalizing on opportunities that are available on the internet.
So, if you are one of those who doesn't have a website, then you are undermining the potential of the internet for your business success. Just think for a while; if you don't have a website, how can one find you? So, let's look at some reasons why your consulting business should have a website.
"You can Only Grow Your Business if you have a website"
Reasons Why Consultants need a website to Be Competitive
Achieve Your Business Goals
Every businessman needs to set goals for his business in the upcoming time. These goals can be achieved with the help of digital marketing. Business goals should be realistic and the path to achieving them should be well defined according to the business needs.
The following Mediums can be used to Achieving Consultant Business Goals;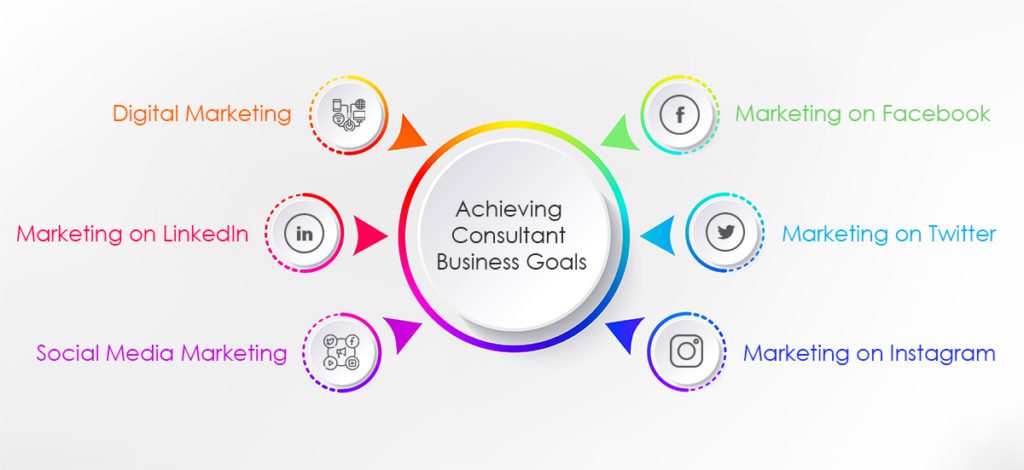 Nowadays, a website is just like a shop without fixed expenses; you don't need to pay monthly rent, you don't need to pay bills of premises, and you don't need to pay taxes. So just imagine how much money you can save if you start your business through your website.
It is important to know when we will start digital marketing of our business. Not everyone will take an interest in our emails, blogs, Twitter, or any other form of marketing strategy. Only those who have an interest in your consultant services. You only need to keep their interest. While browsing, many people will visit your website, but only a few will try to know more about your products, pricing, and conditions. You just need to grab them.
Those who are not will merely skip through it. Nothing gets thrown in the trash can. Instead, the reader will ask, "Where can I find out more about the company?" If your post has a link to your website, the reader must click on it. Within a few seconds, they will land on your home page.
Access your business's finances and identify your needs.
Consider market research for pursuing the most relevant goals.
Need to set clear, actionable goals instead of vague goals.
Break up long-term goals into smaller steps.
Big, long-term goals can feel overwhelming.
Showcase Your Brand
A good business strategy is that your business looks unique from others, and you follow business ethics. This will increase the trust of your customers in your business. Also, as easily the customer can access your business website, the sales will increase.
Position Your Business Strongly in Search Results
It is important to give an excellent impression to the client. A website is the name of the business, and when your website comes on high ranking in search on the web, your business name comes on top, and the percentage to get a potential client also goes high. Search Engine Optimization (SEO) also helps the website to come on top in search engines.
Following are a few tips to place your Business Website Strongly in SERPs (Search Engine Results Pages):
Register Your Domain Name
Create a Personal PR (Public Relations) Strategy
Consider a Wikipedia page
Use Online Tools to Link Your Blog and social media
Be Consistent and Patient
Refresh Your Website Content
Create Multiple Social Media Profiles
Name Your Profile Images Correctly
Market Your Skills
Websites are the most important part of the marketing strategy of consultants. It grabs the new customers. A consistent digital marketing strategy comes out with good results. Clients from all over the world try to find the best business opportunities on search engines; when your website comes in the top ranking, the traffic on your website increases, and ultimately, you get new business opportunities. Through this, your business gets a promotion and sales by using "digital marketing" or "digital marketing freelancer."
Show How Relevant You Are
Every consultant needs to have a website by his business name or own name to showcase his gains in life or share his personal experience with others. Nowadays, the business activities of every individual or company are going digital, which also gives a professional touch.
Create a Business Brand Value
Creating a brand value vision statement speaks about your brand's future aims. It should be crafted to communicate your overall goals clearly and concisely. Your vision statement leads you to achieve your goals with consistency. It should not be confused with other statements.
If you don't consider the digital world, you will be left behind by your competitors. Out of the 8.01 billion people worldwide, 4.75 billion own a mobile device, and 2.9 billion are smartphones. In addition, more than 4.5 billion people are on the Internet daily – searching and sharing information.
Deduct the Expense
You must know that you can mention in your tax return all the expenses you incur to build, buy, or get done on the business website.
"I practice what I preach."
How To Challenge Other Consulting Companies in the SERPs (Search Engine Result Pages)
Business dynamics have changed a lot with time, especially in 2022. After covid, every business is compulsory to have a website. This will help the business grow; the businessman can compete with other people by offering sales on his website or discounting offers. Moreover, a website can be searchable worldwide, so why are the endless opportunities for his business?
All these businessmen need to start a massive campaign for digital marketing; if the rating in the search is high, they must have good traffic on their website. When the businessman executes a proper and planned digital marketing strategy, the business website comes on top searches. SEO also helps increase the traffic to your business website, which leads to a high-ranking in-web search. Especially consultancy business marketing, the website must give competition to other pears.
The following points may be considered
Which company provides well-written content?
Which company provides the best optimization?
Which level of engagement does the company have?
Does the consultancy company give a regular schedule for regular posts on social media?
Which website runs better on mobile?
Conclusion
Starting a Consulting company is a great idea. Unfortunately, there is a tiny percentage of failure for a small businessman. However, there will always be a steady demand for your type of service. Business owners will rely on your experience and expertise to help them navigate tough economic times, survive, and thrive beyond years.
The bottom line is that the website is a must for every consultant business. Without a website, this business cannot run in a better way. Unfortunately, we met many consultants who don't have a business website, which means they have a limited scope of the business. This is why the growth rate of those is lower than those with the proper business website. A new solution for making a website for small enterprises is available on the internet, and that is WebsFB. Try it; you will feel the ease, and you can easily build a perfect business website that delivers magic results.
---
---
Subscribe to Stay Updated with Latest News
Easy 7 steps for build your website.
Most Populer Post