Digital Marketing Guide - Know What, Why and How?
April 29 - 1 year before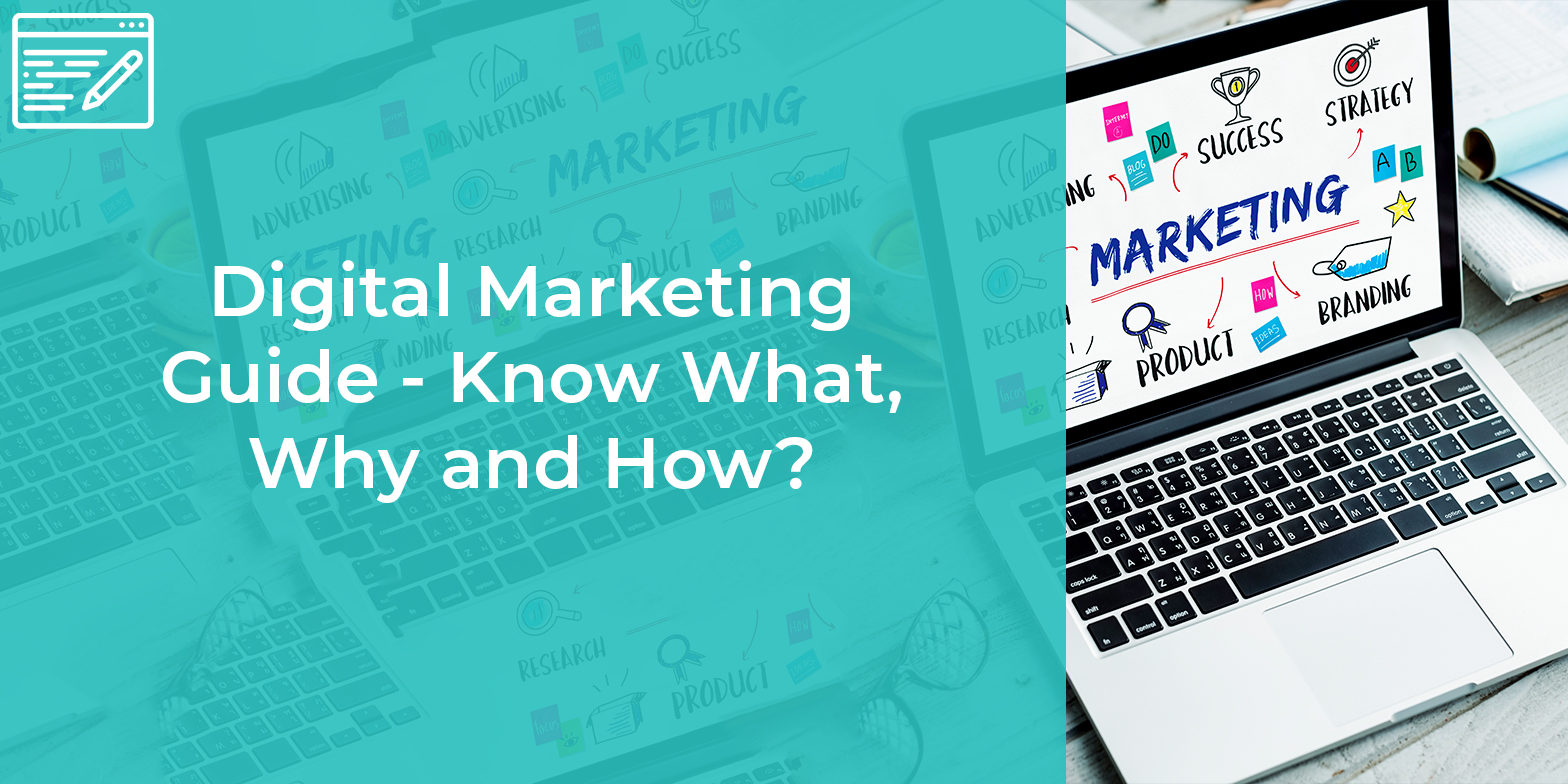 Marketing has always been about connecting with your audience in the right place and at the right time. Today, that means you need to meet them where they are already spending time: on the internet. The internet is where people go to find information, be entertained, and connect with others. If you want to reach your target market, you need to have a strong presence online.
That means having a website that is optimized for search engines and easy to use, as well as active social media accounts. It also means creating content that is relevant and engaging. By meeting your audience where they are already spending their time, you can build relationships and increase brand awareness. In today's world, internet marketing is essential for any business that wants to succeed.
In an increasingly digital world, it should come as no surprise that businesses are turning to digital marketing to reach their target audiences. Digital marketing encompasses a wide range of activities, from creating and managing a business website to developing and executing online advertising campaigns.
In this complete guide to digital marketing here we are going to discuss the following points
So, let us dive deep to know more about these points.
What is Digital Marketing?
In the most basic terms, digital marketing is any form of marketing that exists online. This includes everything from search engine optimization (SEO) to social media ads and everything in between. While some businesses may have a dedicated digital marketing team, others may simply integrate digital marketing into their overall marketing strategy.
However, all businesses can benefit from having at least a basic understanding of digital marketing. After all, with nearly four billion internet users worldwide, there's a big potential audience to reach online.
"Digital marketing is the way to advertise through active digital channels. These channels may be either a business website or social media or search engine or the mobile application."
Digital marketing is effective because it allows businesses to target their advertising to a specific audience. For example, if a business sells basketball shoes, it can use digital marketing to target people who are interested in basketball.
This ensures that their advertising dollars are spent in the most effective way possible. Additionally, digital marketing is affordable and easy to measure. This makes it an attractive option for businesses of all sizes. It can be defined as:
Of course, like any form of marketing, digital marketing is not without its challenges. One of the biggest challenges is the ever-changing landscape of the internet. What works today might not work tomorrow, which means that businesses need to be constantly experimenting and adapting their strategies. Additionally, some digital marketing techniques can be perceived as unethical or intrusive.
Types of Digital Marketing
Digital Marketing is mainly categorized into the following types:
1. Search Engine Optimization
Search engine optimization, or SEO, is a digital marketing technique that can be extremely beneficial for businesses of all sizes. SEO involves optimizing your website and content for search engines like Google, which can help your business to appear higher in search results and attract more online traffic.
Not only does this increased visibility bring more website visitors, but it can also lead to improved brand awareness and recognition. In today's competitive online landscape, SEO is an essential tool for businesses that want to stand out from the crowd and attract new customers. Following are the major types of SEO:
On-Page SEO: It is all about focusing on the page elements of the site for example inserting keywords on the page
Off-Page SEO: Off-page activities include creating site links that may be either inbound links or backlinks
Technical SEO: Technical SEO includes focusing on the page code or its CSS file or any other technicality improvement to increase site rank on Google
As a business owner, you know that visibility is key to success. You need potential customers to be able to find you easily when they're searching for the products or services that you offer. That's where SEO comes in. SEO, or search engine optimization, is the process of making your website more visible to potential customers. And it starts with understanding how search engines work. Search engines are constantly scouring the internet for new content, and they use algorithms to determine which websites should appear at the top of the search results. Some of the popular SEO Tools include:
So if you want your website to appear at the top of the search results, you need to make sure that it's optimized for the search engines. And that's where SEO services come in. SEO services can help you optimize your website for the search engines so that potential customers will be able to find you easily when they're searching for what you have to offer. The right SEO services can make all the difference for your business. So if you're ready to take your business to the next level, contact an SEO expert today.
2. Search Engine Marketing
Search engine marketing is the combination of two digital marketing techniques: search engine optimization and pay-per-click. For new businesses, getting genuine traffic to their websites is not an easy task. They often combine SEO and PPC campaigns to get traffic on their business websites through paid and unpaid means. The two most popular tools for SEM are:
SEM is one of the most important digital marketing techniques. By using SEM, businesses can drive qualified traffic to their business websites and improve their visibility in search engines. Tools for SEM are listed here:
Additionally, SEM can help businesses to achieve better conversion rates by increasing the click-through rate and reducing the cost-per-click. Thus, SEM is an essential tool for any business that wants to succeed in the digital world.
3. Social Media Marketing
Social media marketing (SMM) is one of the most promising digital marketing techniques. Through SMM, digital marketers put efforts to increase the number of followers and the total number of shares to improve their social media outreach. The increased number of followers will help you to reach more people and., as a result, you'll be able to generate more leads and sales. Also, the increased number of shares will help to improve your brand awareness and visibility. Some of the popular channels for social media marketing are:
Facebook
LinkedIn
Instagram
Pinterest
Twitter
In addition, SMM will also help you to build relationships with potential and current customers. With SMM, you'll be able to connect with your target audience in a more personal and engaging way. Some more tools used for that are:
As a result, you'll be able to create a loyal customer base that will continue to support your business for years to come. If you're not using SMM to market your business, you're missing out on a powerful marketing tool that can help you to achieve your business goals.
4. Pay-Per-Click
In today's digital age, there are many different ways to market your website and pay-per-click (PPC) is one of them. PPC is a form of advertising where you pay a fee for your ads to be placed on search engines such as Google and Bing. When someone clicks on your ad, they are redirected to your website and you will be charged for that click.
Paid Ads on Twitter: To get more website traffic and followers you can try paid Twitter ad campaign
Paid Ads of Facebook: Paid Facebook ads provide more customers and traffic to the business website again
Sponsored Messages on LinkedIn: The paid LinkedIn business users can also send messages to promote their brand
The amount you are charged depends on your website quality score and the keyword competition of your selected keywords. Businesses use the following tools for PPC:
PPC can be an effective way to increase traffic to your website, but it is important to remember that you are ultimately responsible for the quality of your website and the content on it. If you create a poor user experience or provide low-quality content, you will not be successful with PPC.
5. Content Marketing
Yes, content is the king and it has been for a very long time. Content is what helps a business to improve customer experience as it should be original, valuable, engaging, and enriching. Content marketing tools include:
People visit websites and other platforms to educate themselves or get some information and it is the responsibility of the digital marketer to come up with content that satisfies the thirst of their target audience. Some channels to promote content marketing includes:
Blog Posts: Writing informative blogs for business websites can indeed bring more website visitors and drive organic traffic as well
Infographics: Infographics are a form of visual representation to educate website visitors about any service, they are considered the best way to convey blog information
Whitepapers and Ebooks: Whitepapers, Ebooks or any other long-form content gives users a detailed view of the buyer's journey.
It is important to remember that content should not only be original but also valuable and engaging so that people will want to read it and share it with others. Enriching content will also help to improve customer experience by providing them with new and different perspectives.
6. Email Marketing
Email marketing has been around for nearly as long as the internet itself, and it remains one of the most effective ways to reach a target audience. Though some may see it as traditional or outdated, the numbers don't lie: more than 90% of people check their email at least once a day, making it an essential tool for any digital marketer. Email marketing can be done for the following purposes:
Newsletter subscription mails
Follow-up emails to the website visitors to download something
Welcome emails to customers
Series emails for customer nurturing
Customer nurturing mail series
The first step in email marketing is developing a strong database of email addresses. This can be done through various methods such as offering incentives or discounts for sign-ups, partnering with other businesses, or running ads. Once a database is established, marketers can begin crafting and sending emails. Some popular email marketing tools include:
Though there are many different strategies for email marketing, some common tactics include segmenting your audience, personalizing your messages, and using strong calls to action. By taking advantage of this powerful marketing tool, businesses can reach a wide audience and achieve their goals.
7. Influencer Marketing
In today's digital age, social media has become one of the most powerful tools for marketing. Brands are increasingly turning to social media influencers to promote their products and services. Influencer marketing is a form of marketing in which brands partner with influential people in their industry to promote their products or service. This type of marketing can be extremely effective because it allows brands to reach a large audience through the influencer's reach.
Why Digital Marketing is Important for Your Business?
Without a clear understanding of what they want to achieve, businesses are less likely to invest the time and resources necessary to succeed. As a result, they miss out on opportunities to reach new customers, grow their brand, and increase sales. So, if you're running a business, make sure you take the time to figure out your digital marketing goals. Once you know what you want to achieve, you can put together a plan to make it happen. And with a little dedication and effort, you'll soon see the rewards of your efforts. Major benefits of digital marketing include:
Accessible to customers
Know about your competitors
Know your customer's availability
More marketing with less cost
The ability to exclude people from your target market is one of the most underrated benefits of market segmentation. By segmenting your market, you can focus your resources on the groups that are most likely to buy from you.
Roles and Responsibilities of Digital Marketers
Any business owner will tell you that marketing is essential to the success of their business. But what many don't realize is that digital marketing is just as important, if not more so. Yet, businesses often fail to capitalize on this crucial aspect of their operations because they haven't taken the time to determine their goals. If you are not sure about the roles and responsibilities of a digital marketer, then know them now:
Digital Marketing Management
Content Marketing Specialist
Social Media Management
Marketing Automation Expert
By using digital channels, businesses can connect with their customers where they are already spending time: online. And because digital marketing is so vast, there are many different specialized roles within the field, from web developers to content creators to SEO specialists. No matter what your skill set may be, there is a place for you in the world of digital marketing.
Inbound Marketing vs. Digital Marketing
In marketing, there are two primary approaches: outbound and inbound. Outbound marketing involves proactively reaching out to consumers to get them interested in a product. This can take many forms, including advertising, direct mail, and telemarketing.
By contrast, inbound marketing centers on creating and distributing content that draws people into your business website. Content comes in many forms, such as social media posts, blogs, reports, webinars, and so on. The goal is to provide value to the reader or viewer and build trust and relations over time. Inbound marketing is often seen as more effective than outbound because it's more geared toward building long-term relationships rather than simply making a quick sale.
What's more, inbound marketing is generally less expensive than outbound since it doesn't require paid advertising. Thus, for many businesses, inbound marketing is the way to go.
KPIs and Metrics of Digital Marketing
Some of the key performance indicators based on which you can quantify the performance of the business are:
Customer Acquisition Cost: The cost occurred to acquire the new customer
ROI: Return on Investment indicates your profit rate
Conversion Rate: The percentage of newly converted leads
Backlinks: This is the number of sites that are linked to your website through a link
Bounce Rate: This is the rate where your customer lands but exits immediately
Conclusion
It's safe to say that digital marketing has taken the world by storm. In today's connected world, it's become essential for companies of all sizes to have a strong online presence. From small businesses to major corporations, everyone is using digital marketing to reach new customers and grow their brand. And it's working! Digital marketing is one of the most effective ways to connect with more people and promote your products or services.
Not only is it incredibly efficient, but it's also very cost-effective. Digital marketing can be up to four times more effective than traditional marketing methods. Additionally, digital marketing is extremely versatile and can be used in a variety of ways.
Whether you want to increase brand awareness, drive traffic to your business website, or generate leads, digital marketing can help you achieve your goals. With so many advantages, it's no wonder that digital marketing is here to stay.
---
---
Subscribe to Stay Updated with Latest News
Easy 7 steps for build your website.
Most Populer Post