How to Create a YouTube Branding Channel? Step-by-Step Guide.
February 21 - 1 year before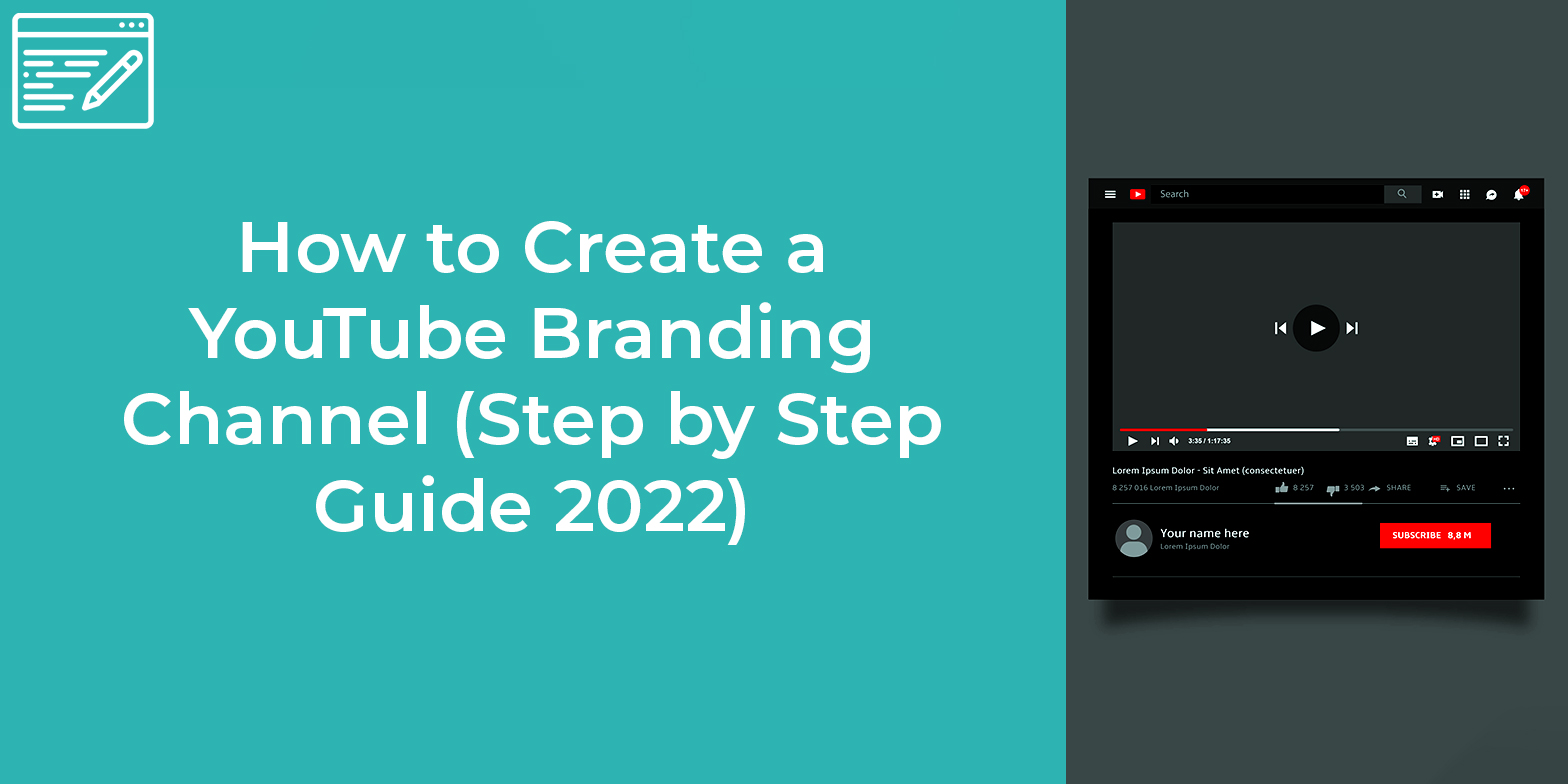 YouTube is the biggest platform to share branding videos with your business viewers. YouTube has around 2 billion monthly viewers. This can be a major number with whom you can share your content/product or service videos.
Though YouTube is only a video platform still you can execute several promotional activities just by creating videos. Small business owners can create their product videos and share them through their websites. Uploading and sharing the product or informative videos is quite easy when you create the website through WebsFB website building platform.
For YouTube Branding, you can create your YouTube channel and reach your target audience within a short period. However, it may take some time to create and run a successful business channel. But if you will follow the right tricks then you can do it quickly.
Today, we have brought this blog to throw some light on the topic of why businesses should create a YouTube brand account and how they can create it few steps.
Why Create a YouTube Channel?
YouTube is considered the most powerful social media and video-driven network since it was l launched in the year 2005. In 2016 the media powerhouse was acquired by Google and today it is considered the predominant channel to share live videos.
YouTube is considered a robust and valuable digital tool for customer communication and the promotion of the business. The concept of YouTube is becoming a popular concept for modern business organizations and startups.
Global businesses adopt a contemporary approach to get several benefits. YouTube is considered the most robust and valuable digital tool for business promotion and customer communication.
YouTube is also a cost-effective and innovative tool that can produce desired results for your business. Now let us know the steps required to create a  YouTube brand account so that you can create and use it for service promotion.
Step1: Sign into your Google account (or register and sign in if you don't have one).
If you are using Gmail, an Android phone, or Google Maps-like applications then you may probably already have a Google account, but if you're starting from scratch, head here to sign up for a new Google account.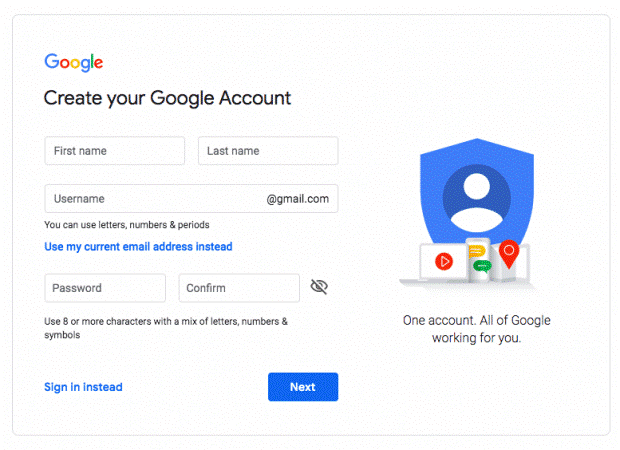 Your mail id and name will not be publicly linked with your brand, so do not worry you can use any of your personal or existing business email ids to link with the YouTube channel.
Step 2: Create a new YouTube channel using your Google account.
When you create a Google account your personal YouTube brand account will automatically get set up. But as you will use YouTube for your business so it would be better if you can create a brand account.
For this, from your YouTube account page, you can click "Create a Channel" and enter the YouTube Branding name and other details.
You can give admin access to your account to multiple people. Additionally, the name and appearance of the channel can also be customized as per your brand.
Through the brand account, the businesses can also access the insights of their channel that who is watching the channel, and know traffic details as well.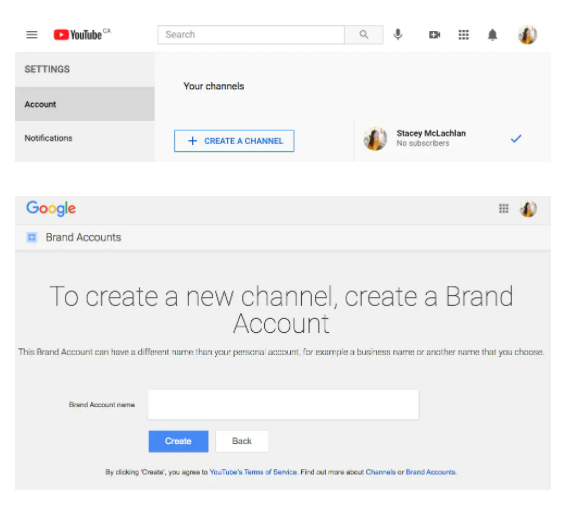 Step 3: YouTube Channel Customization
Now, is the time to make some social media profiles. This can be done through channel customization. There are three tabs namely, "Layout", "Branding" and "Basic Info" entering the information to optimize the channel information.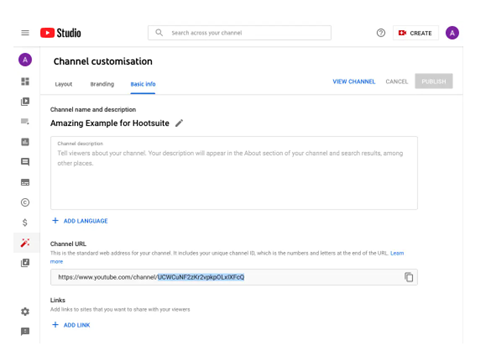 You can use descriptive keywords while filling out the business information. Here, the description may include the topic of the channel, your industry, product information, and other relevant content. Under the "Branding" section you can upload the unique look and other YouTube Branding information of your channel.
Step 4. Upload branding elements to your channel
In addition to the descriptive details that you've added, there's another element of customization for a new YouTube channel: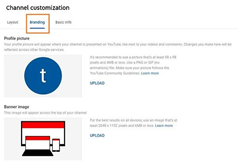 Under the "Branding" tab, you'll be able to add your Profile Picture, Banner Image, and Video Watermark.
Step 5: Uploading Your First YouTube Video
You may be excited to know that through this step you are going to be a YouTube content creator. For this, you just need to hit now "Create" button at the top right corner of your account.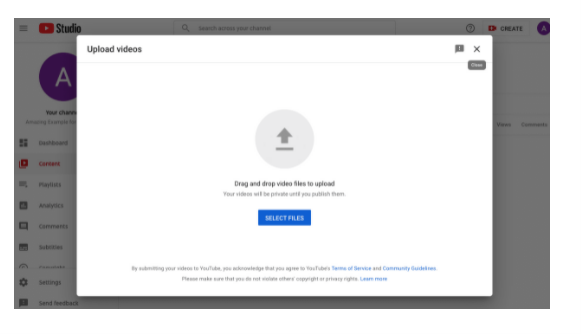 Step 5: Promote Your Channel and Optimize Them for Search
Now like you have created the channel and uploaded it on YouTube. Now, is the time to get more subscribers and more views. Here we are going to enlist some tips to promote your YouTube channel.
Here are the tips:
You should use and optimize concise and descriptive titles including Google-friendly keywords. Video titles are the first thing that any user sees while searching for videos. You can now use descriptive titles so that search engines can understand what are the videos all about.
You can always fill up the section with searchable or clickable tags but make sure all tags should be relevant to your video content. Try to be honest and select quality tags for the videos. Your goal is to reach more viewers that can be interested in your content. Video tags also help YouTube algorithms to search for videos.
Choosing a category is another way to group your video with similar content on YouTube - but that might not be as simple as it sounds.
You can always promote the created channel over multiple platforms. For this, you can use multiple social profiles, websites, and channels. By this, your existing fans can know about your channel content and relevancy.
Final Words
So, this is the way by which one can create his/her youtube brand connect successfully. You can always rank the videos in the top position by increasing their subscribers. If you are a small business owner and have your website, then can always inculcate your video on the website as well. So, when you create the branding video, you can always create a channel where multiple videos can be uploaded and then promote your video.
---
---
Subscribe to Stay Updated with Latest News
Easy 7 steps for build your website.
Most Populer Post