How To Register a Business in The US (Step By Step Guide)
December 21 - 1 year before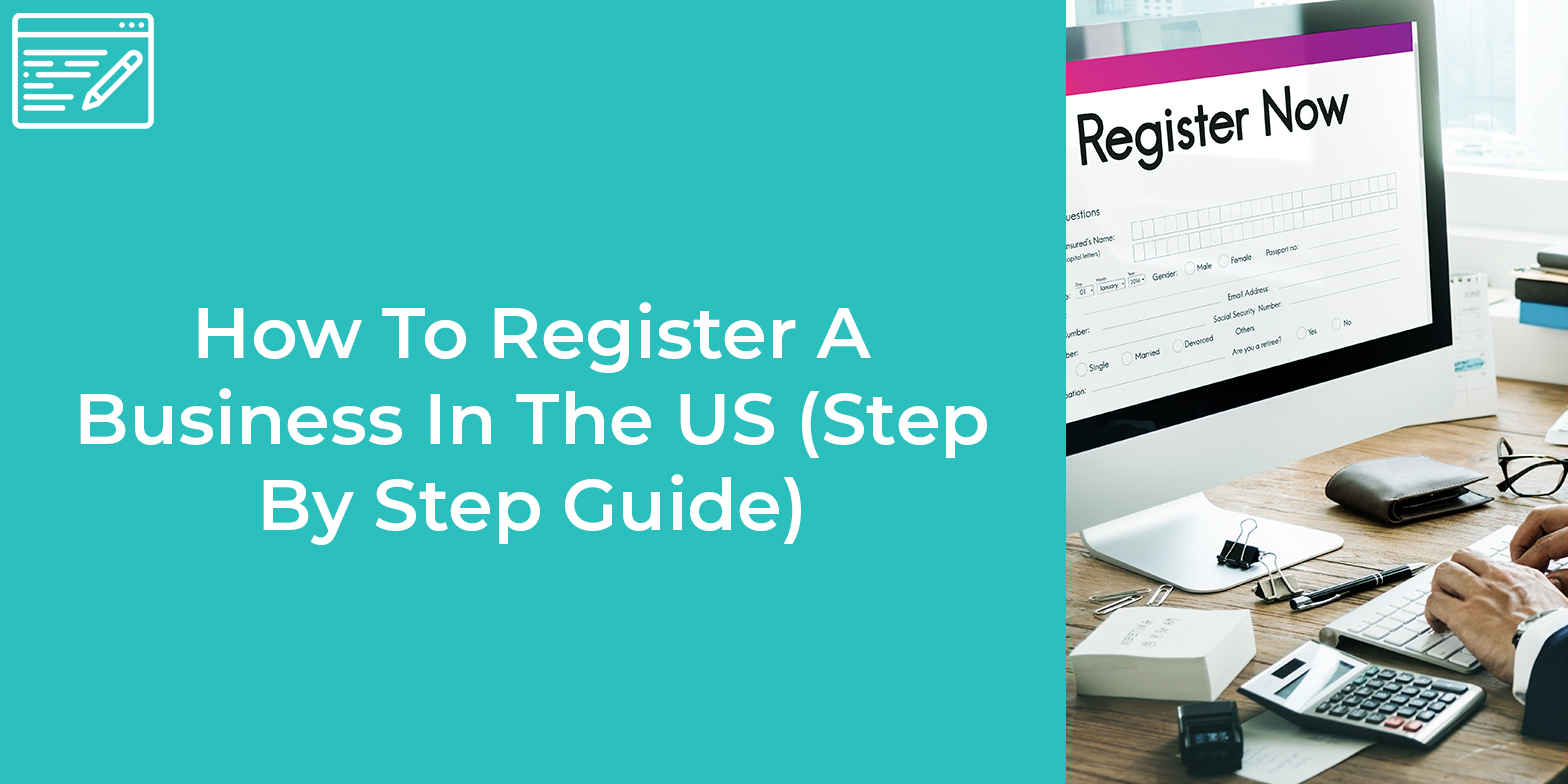 Introduction
If you are an entrepreneur from the USA and want to start your own business, then it is important to know the entire business registration process in the USA. When the business owners register their business in the USA, it gets registered as a legal entity. The business assets also get legally secured when it gets registered. Registered businesses are considered as a more stable entity, and the best practice for every business is considered as to register the business as you begin your entrepreneurial journey.
Starting a new business venture is a million-dollar idea. When you start your business, you need to formulate a business plan and research the target market. You should also make your business website ready to start your business journey. By registering your business, you can safeguard it against liabilities. If you want to know the complete business registration process or how to register online business in USA, then read the blog further.
Here we are going to discuss the importance of business registration along with the complete procedure to register it.
Why You Should Register Your Business?
Registered businesses are considered more legitimate, but there are still certain business activities that can only be performed only by registered businesses. Now let us know the reasons why you should register a business in USA online, which are stated below:
Protection of Personal Liabilities
Business registration can protect your assets from bankruptcy and debt. However, the liability level of the business depends on the type of business. For registered businesses, the partnership and sole proprietorship are not considered separate entities, and both types of owners are responsible for bankruptcy or debt.
However, LLC (Limited Liabilities Companies) and corporations are separate from their owners. Therefore, if these types of businesses fail or go into debt at any time, their finances will still be protected.
Protection of Personal Liabilities
When an investor wants to invest in any business then he/she makes sure business legitimacy. Registered businesses are considered as more legitimate businesses and it becomes easier to raise funds for such businesses. Investors do not prefer to choose any unregistered businesses. The businesses can rest assured that their businesses are completely secure for their clients.
If you want to hire employees for your business, you can easily do so legitimately if your business is registered. You need to get State Identification Number or EIN to help businesses formulate their employees' payroll.
Business and Brand Protection
When you register business in USA, you protect your brand name. By doing so, you can rest assured that your business brand name will not be used by anyone else. However, if you will not register your business name or online business in the USA, then any competitor can misuse it, which can confuse your customers.
So, now you know the reasons or benefits of registering your business, now is the time to know the registration process. In the next section, we are going to discuss the steps to register your business in the USA.
Steps How to Register the Business in the USA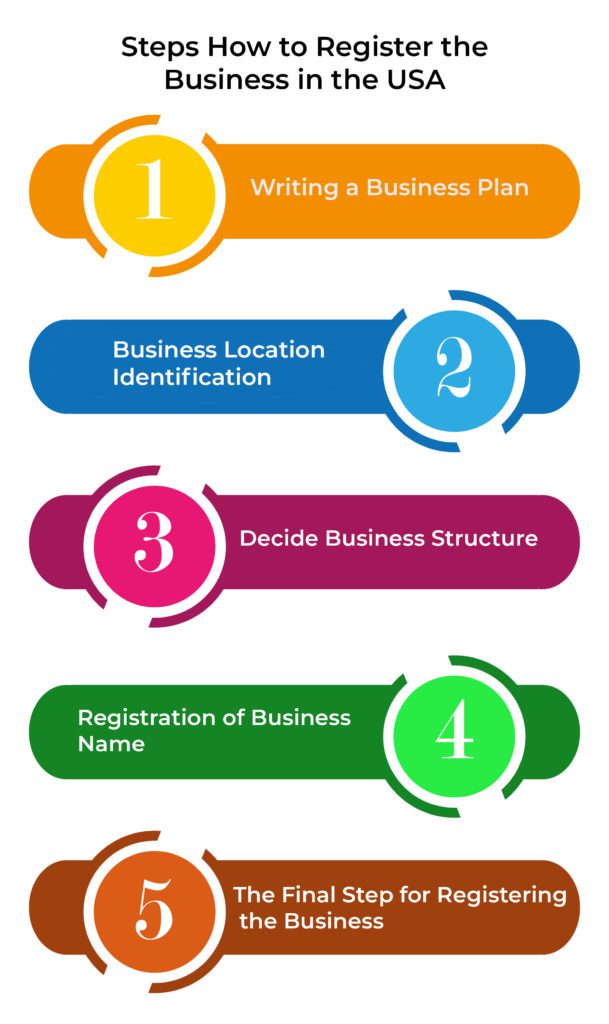 Step 1: Writing a Business Plan
The first step to starting a business is to write a business plan. The document has a complete business outline describing your business goals and plans to attract clients and investors. If you have not chosen any business name so far, then by making this plan, you can choose the same. A business plan also helps you know the business structure you need to establish.
Step 2: Business Location Identification
It is important to decide your business location depending on where you are based out. The business location matters in deciding the tax and the exact steps you need to take for business registration. Your location will also decide the target market, so as per the location of your business, the marketing campaign is planned.
Step 3: Decide business Structure
Before registering the business, you would need to decide which type of business you are going to start? A business can have the following structures:
For the sole business proprietorship, you are liable for all business finances. In these businesses, the business and personal assets get intertwined. It is pretty simple to establish such businesses.
When two or more individuals want to run a business together, they must register it under the partnership. Depending on the type of partnership, one partner must take care of personal liability while the other has limited liability. However, in the case of a general partnership, both partners have to share the same liabilities.
Corporation functions as a separate entity from owners. They are a legal entity, which means they are free from personal liabilities. But then, corporations involve more tax requirements and federal reporting. This is the best option if you want to open your business for the shareholders.
LLC (Limited Liability Corporation)
The owners of LLC can keep their personal and business assets separately. LLC owners can easily pass their taxes through their income level.
Step 4: Registration of Business Name
Before you choose the business name, you should ensure that any business does not already take the name. You can check the Website U.S. Patent and Trademark Office to ensure this. You can also search on Google to know about this.
Step 5: The final step for registering the business
The final step to register a business in USA online involves obtaining the necessary permits to execute business operations. For this, you can follow below steps:
IRS Registration: To file the taxes the businesses must receive their EIN.
Stat Registration: Depending on your state, check the basic requirements like documents and fees to register the businesses.
Local Registration: This step is optional for all places, but you may be asked to have a local permit at some places.
Trademark Registration: Business trademarks are also used for business recognition. You can use a business logo, word, or phrase as a business trademark.
Final Words
Business registration means protecting your business and personal assets. In the USA, business registration can make it a distinct legal entity, and it becomes accountable for debts. You can even conduct your business operations without risking your assets. Therefore, registering a business in the USA is a compulsory and important step for every business to stay safe and secure.
---
---
Subscribe to Stay Updated with Latest News
Easy 7 steps for build your website.
Most Populer Post