How to Start a Food Truck Business: 7 Simple Steps to Get Started
March 15 - 1 year before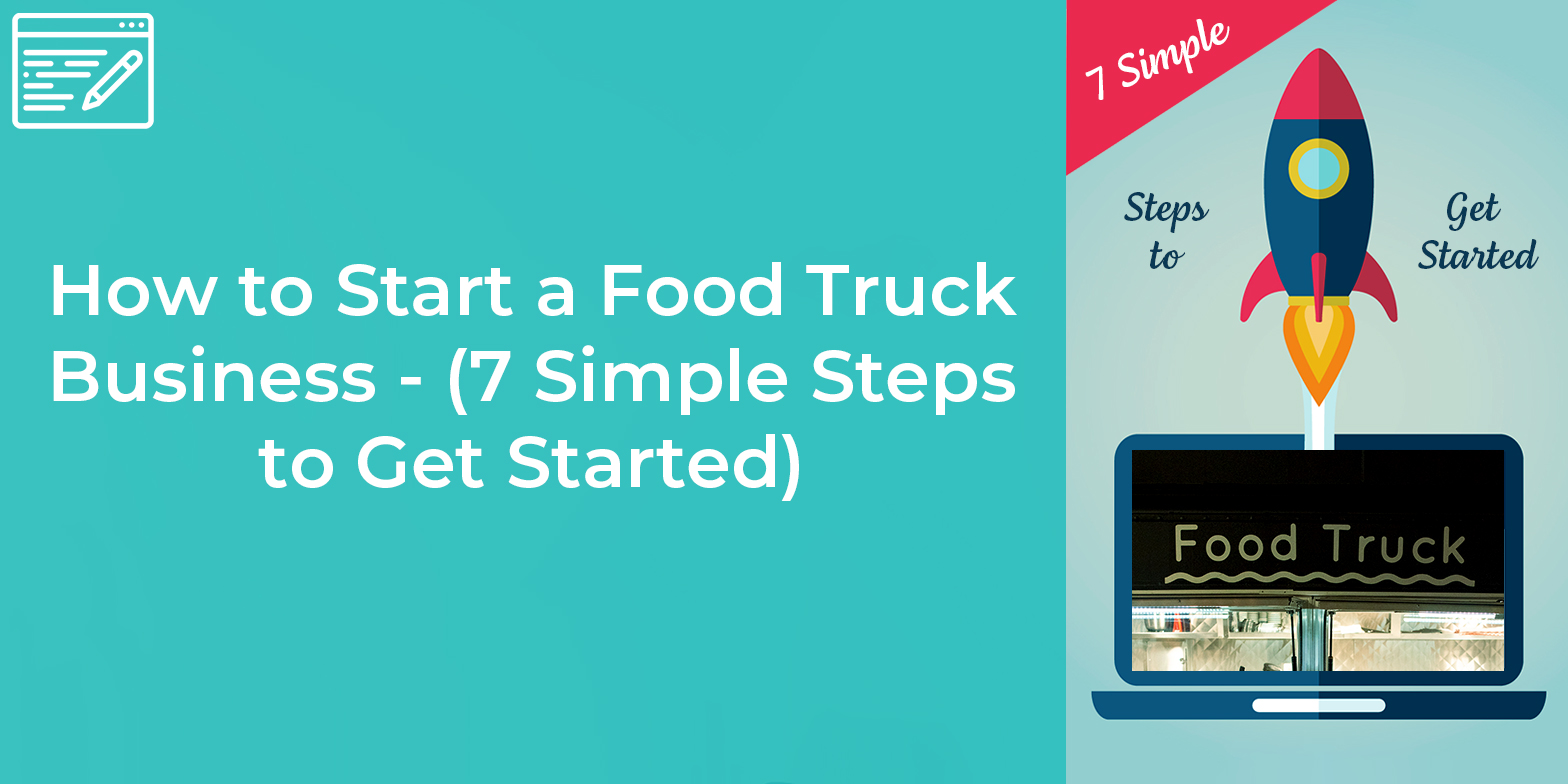 Over the past decade food truck industry has grown much more and only in the US there are around 4,000 food truck businesses as per IBISWorld. The food truck industry has experienced a boom over the last five years, with average industry growth of 7.5%. Due to high demand and low-cost business owners find it easier to enter the food truck business. The operational cost of the food trucks is much lower than a traditional brick-and-mortar restaurant business.
Running a food truck can be a profitable business model for many entrepreneurs. If you are looking to start a food truck business, then learn how to open a food truck in six steps. The steps are:
Know the requirement to open the food truck business
Identify ad create the concept of food truck business
Know the startup cost of the food truck business
Get a license and know other regulations
Buy a Food Truck
Know the Food Truck Operations
Invest in Food Truck Marketing and Advertising Promotion
So, by following the steps you can establish the business in a full-fledged manner. So, let us know the steps in detail.
Seven Essential Steps to Start Food Truck Business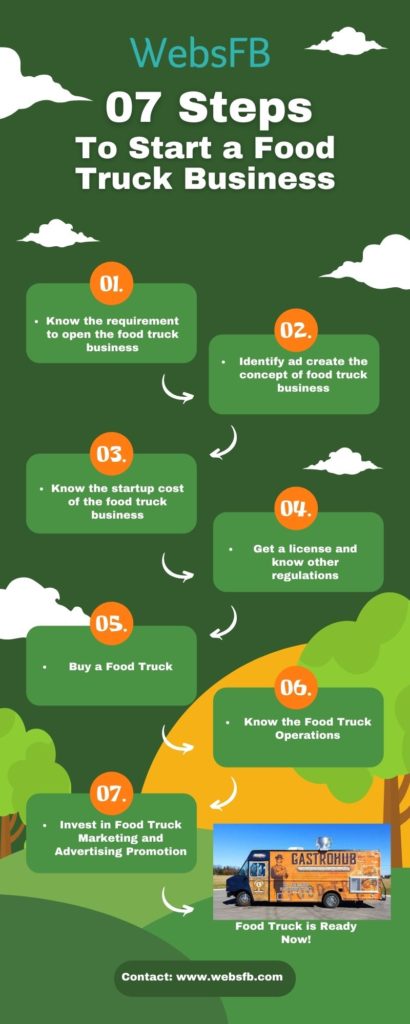 1: Know The Requirement To Open The Food Truck Business
As the first step you should conduct the proper market research to know and get familiar with your target market choices, Apart from this you should know your competitors, especially in your area. Finally, create a SWOT analysis to know the opportunities and then prepare a business plan. So we can say that before starting the business try to follow the below steps:
Conduct Market Research
Write a Business Plan
Determine Setup Cost and Identify Funding Resources
Obtain License and Permits
Purchase Essential Equipment for Food Truck
Create a Menu
Invest in Marketing to Promote the Business
So, these steps should be followed to layout the business and conduct it properly.
2: Identify Ad Create The Concept Of Food Truck Business
Food truck businesses are based on the cuisine that you will serve to your customer. Know what kind of food you will serve and specialize in? Once you decide on your menu now is the time to test the concepts in the market, so start with the following steps to prepare the business plan:
1) Analyze your Target Market
2) Study the Competitor
3) Conduct a SWOT analysis to understand the market
When you become ready with all the required information now is the time to prepare the business plan. This will give you a proper understanding of the business operational plan.
3: Know The Startup Cost And Funding For Your Food Truck
To start the food truck business you will have to purchase the actual truck and get it modified as a food truck. You will also need to buy cooking equipment. The cost of the truck itself can be anywhere between $50,000 to $60,000 or more than this depending on the size of the truck, its age, and the required alteration for the truck. The total cost of kitchen equipment and truck will depend upon the equipment that you will use to set up your food truck. Try to know the following three points:
Cost of Food Truck
Inventory Cost
Cost of Staff
When you have to choose the POS for the food truck to run your business efficiently, then try to choose the system that is easy to set up and operate. Moreover, you should also try not to run out of inventory of ingredients, especially in the middle of a shift. So, you should know in advance how much you need to order. You should try to manage the inventory properly.
4: Get Food Truck Licenses, Permits and Know Other Regulations
License and permits will depend on your location. However, you should know in advance food safety regulations, parking permits, health permits, and other business permits. You should try to get a health permit firstly by which you will come to know where you can legally operate your truck. Permits may have to be renewed as well. Mainly the following license may be required for the food truck business:
Parking Permit
Health Permit
Business Registration
Commercial License
"The licenses and permits you need to operate your food truck will largely depend on the state you live in. But at the very least, you'll need a business license and food service permit. "
As now you are going to deal with commercial business so U.S. cities then you may have to register your business. You can refer to this article to know more about business registration in the US.
5. Buy A Food Truck
When you are thinking about what type of food truck to buy, it's important that the food truck fits your needs. There is more than one factor in deciding on this choice and some things worth considering include
Deciding whether you want to lease or own your truck.
What kind of vehicle do you want - new/used
The size needed for storage or cooking space (to cook large orders).
Ease of operation so employees can operate efficiently without much training time needed.
how many passengers/customers can comfortably fit into seats at once
Additionally, to become a successful food truck owner, you will need insurance for your vehicle and business, as well as finalizing inspections before going out on the street legally-which could require some more time than just getting started!
6: Know the Food Truck Operations
To conduct the day-to-day operations of a food truck you should be equipped with the right technology and staff along with inventory management capabilities. These days technology has become much more advance so you may also need to be technically advanced e.g. to accept payment from customers you may have to be able to accept online payments through credit cards and mobile payments. You should try to find an easy-to-setup payment process gateway to process payment.
Main food truck operations include:
Accepting Payments
Managing POS
Inventory Management
Employee Management
Food truck owners can use software to manage these operations like POS software can help the businesses in managing their sales, and any employee management software can be used to manage the payroll of the employees.
7: Invest in Food Truck Marketing and Advertising Promotion
Just like other businesses you will have to market your food truck business as well. You can benefit from many promotion platforms and techniques. Social media platforms, food truck websites, word-of-mouth publicity, and PR are some of the commonly used tricks that work for promotion. So, you can opt for the below marketing tricks to promote your business:
Setup Google My Business Listing
Promote business on social media
Invest some time in PR
You can take the help of digital marketing or SEO technique to promote your business, especially in your local area. If you do not want to invest in website development then you can try to opt for a website-building platform to generate more business.
Conclusion
This post discusses all the major required steps to set up a food truck business. Apart from these steps, there can be many other small aspects related to the setup of the food truck business. To set up the business try to calculate your financial benefits from the business. Some steps like business research and setting up the truck to make it operational also involve some investment. To get proper ROI you will have to promote the business online and offline. Small business websites can indeed be of great help for that so set up the website and start promoting your business now.
---
---
Subscribe to Stay Updated with Latest News
Easy 7 steps for build your website.
Most Populer Post