Key Considerable Web Design Tips to Make Your WebsFB Website Amazing
November 16 - 2 year before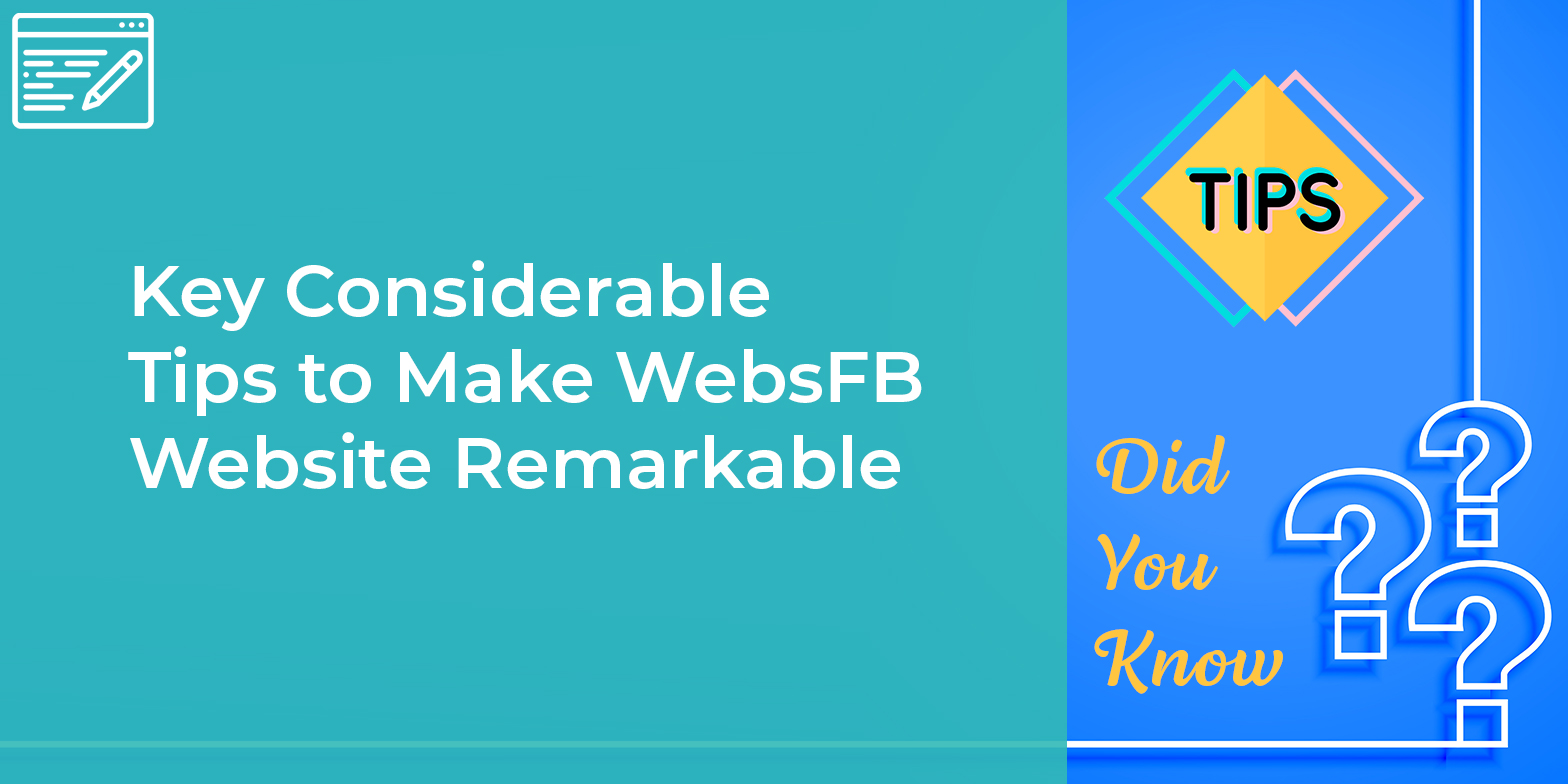 Small businesses can anytime make their business website on WebsFB. At any time only having a website may not be sufficient you should make the website organized and managed. By following the best practices to design a website structure you can make it customer-friendly. When small businesses design WebsFB websites to make their online presence then several aspects can make it more effective.
Website creation is just a 7-step process on WebsFB, but the business owners want to make their website buyer or customer friendly. There are some of the tips that can make your website creation experience awesome with WebsFB. Here we are going to discuss the tips so that you can get your business portfolio website quickly and effectively.
Tips to Make Flawless Business Website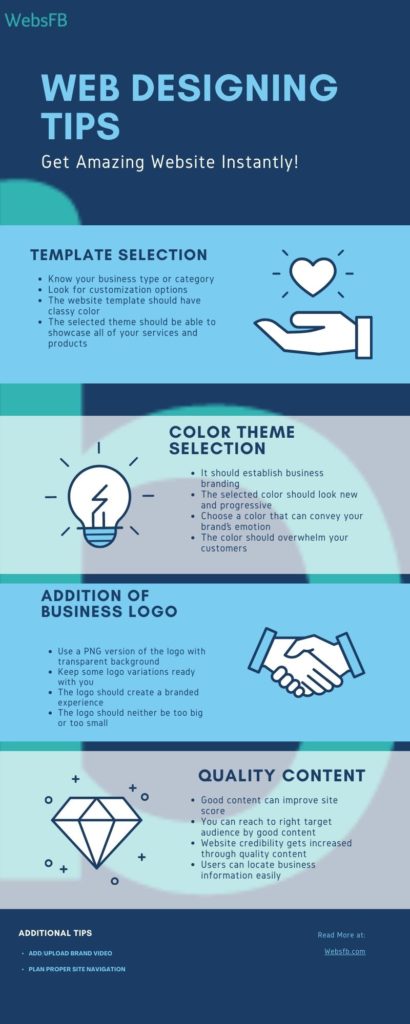 1. Template Selection
You do not need to be an expert while selecting a website template. When you embark on your online journey with WebsFB website builder then you can get several matching website templates. To select the best template for your website, follow the below steps:
Know your business type or category
Look for customization options
The website template should have classy color
The selected theme should be able to showcase all of your services and products
When you select the theme for your website, consider some of the competitor's websites as an example and check whether the selected template is matching with their site or not.
2. Color Theme Selection
For any website, design color is an important aspect that can attract user attention and drive conversion. The selection of the right color can make your website design successful. The choice of color should not contradict the philosophy of your brand. WebsFB offers all vibrant and standard color theme options to its clients. You should consider the following aspects while choosing the color for your site:
It should establish business branding
The selected color should look new and progressive
Choose a color that can convey your brand's emotion
The color should overwhelm your customers
You can always check your competitors and many other new websites to understand and know market trends. When it comes to color WebsFB offers all standard color options. By selecting the matching and dedicated color you can make your website stunning.
3. Addition of Business Logo
A website logo makes a strong impression on your client. It is considered as the brand identity for every small and large size business. The website created on WebsFB can have a logo that may be either a textual or brand identity logo. The logo is like the first impression on your customer that your customer remembers and is an essential part of your branding and marketing process. The right logo can set you apart from your customers. However, while selecting a logo you should consider the following points:
Use a PNG version of the logo with transparent background
Keep some logo variations ready with you
The logo should create a branded experience
The logo should neither be too big or too small
WebsFB users can anytime-either upload their logo, so they should be always ready with their brand logo. Moreover, if you do not have any existing logo then you can take the help of the logo creation option on WebsFB. Your overall brand recognition gets increased with the help of a well-designed logo.
4. Quality Content
When your site skeleton gets ready or the designing part gets over, now you have to upload site content. Many blank sections of the site like About Us, Service or Gallery, or Contact Details have to be filled with proper information. On WebsFB it is quite easy to add site content. Some considerable points for site content are:
Good content can improve site score
You can reach to right target audience by good content
Website credibility gets increased through quality content
Users can locate business information easily
The users are always advised to be ready with content to complete the website development process quickly. On WebsFB to edit the site content you need to press only the "edit" button. To engage the site visitors you have to add quality content in this way you can make your website personalized.
Additional Tips
Well, you can indeed get an amazing site through these steps, but by following some of the additional factors you can get your business portfolio. A professional functional site is the requirement of every business owner. The portfolio business websites can be personalized and featured by following points:
Add/Upload relevant brand video
Embedding a business or branding video with a website can bring unmatched value to your site. The videos are the best way to convey your brand story in a connected way to your audience. By integrating or putting the video with your WebsFB portfolio site you can make your website the best place for your customers. The videos can be either an explainer or informative.
Plan Your Site Navigation
To navigate several sections of the site you should design and implement the navigation in an organized way. Every website visitor firstly wants to know your exact service or offerings. Being new to the site they do not know which section of the site will have the proper information. On WebsFB you can at anytime edit site navigation and plan it as per customer expectation.
Summary
Designing and developing a website on WebsFB is not a complex task. Any non-technical and technical person can easily design their business website. A one-page small business website can be made amazing just by considering some tips. The tips that we have discussed here related to site logo, content, template, and color theme selection can make the site awesome and flawless. So, any WebsFB user has to fulfill the following checklist to improve customer experience:
Business-friendly template and color theme selection
Adding suitable site logo
Uploading quality content
Promoting site
By doing so the small businesses can get their featured site that too just in 7 steps. The WebsFB users can always avail support and make their branding site ready. So do not wait and start your online journey today with WebsFB
---
---
Subscribe to Stay Updated with Latest News
Easy 7 steps for build your website.
Most Populer Post